Notes for THEODORE VELSOR SUMMERS, SR:

Son of Henry Meade Valentine and Annie Amelia (Velsor) Summers.
Born: October 31, 1902 in Unknown.
Died: March 17, 1954 in Unknown.
Buried: Memorial Cemetery of St. John's Church, Oyster Bay, Nassau County, Long Island, New York.
Married: Edith J ? Unknown in Unknown.
Obituary
Newsday Mar 18, 1954
Syosset- Funeral services for Theodore Velsor Summers, attorney for the Town of Oyster Bay, who died suddenly yesterday, will be held Saturday at 2 PM from the Community Church of Syosset, with burial in Memorial Cemetery, Cold Spring Harbor. Summers, who was 52, was a GOP town committeeman and former state Republican committeeman. A graduate of Columbia Law School in 1925, Summers is survived by his with, Edith, two sons, Theodore Jr. and Richard; his father, Henry M.V. Summers; four brothers, Oscar, Clausen, Stanley and Meade, and two sisters, Cornelia and Mrs Stenard Goldsmith. He had just returned recently from a Florida vacation. The Syosset Fire Deptment will hold services tonight at the Summers home on Woodbury Drive.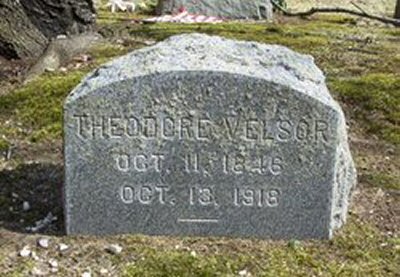 (Source: findagrave.com/Arleen Koello)