Notes for MARY SIDONIA "DOANE" VELSOR:

Daughter of Furman Warren and Mary Emma (Handshaw) Velsor.
Born: May 2, 1889 in Cold Spring Harbor, Nassau County, Long Island, New York.
Died: May 13, 1979 in Ridgewood, Bergen County, New Jersey.
Buried: Genola Rural Cemetery, East Northport, Suffolk County, Long Island, New York.
Married: Henry Suydam, Sr December 15, 1911 in Unknown.


NOTES: findagrave.com she was born at & grew up at Cold Spring Harbor, Suffolk County; lived briefly in New York City, but most of her married life at Huntington, Suffolk County; during her long widowhood, she lived at Northport, Suffolk County; had a "green thumb" and always had a yard full of beautiful flowers and a garden full of fresh produce; while living on East Main Street, Huntington, she & Uncle Henry had an apple orchard in the back yard; she died at Ridgewood, New Jersey. Her funeral was held at the Salvation Army Chapel, East Northport, Suffolk County. In the best sense of the word, she was the "matriach" of the Velsor family.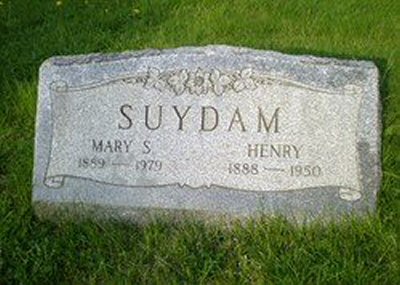 (Source: Findagrave.com/David Roberts/GLENN)