Notes for MARTHA E "MATTIE" MITCHELL WHITMAN:

Daughter of ? and ?.
Born: 1836 in New York.
Died: February 19, 1873 in St. Louis, Missouri.
Buried: Block 24, Lot 2154; Bellefontaine Cemetery, Saint Louis, Saint Louis County, Missouri.
Married: Thomas Jefferson Whitman February 23, 1859 in Unknown.
Thomas lived with his wife and their young daughter, Mannahatta "Hattie" at the Portland Avenue residence with Walt and the widowed Louisa Van Velsor Whitman until moving to St. Louis, Missouri in 1867 to become chief engineeer charged with building & overseeing waterworks for St. Louis.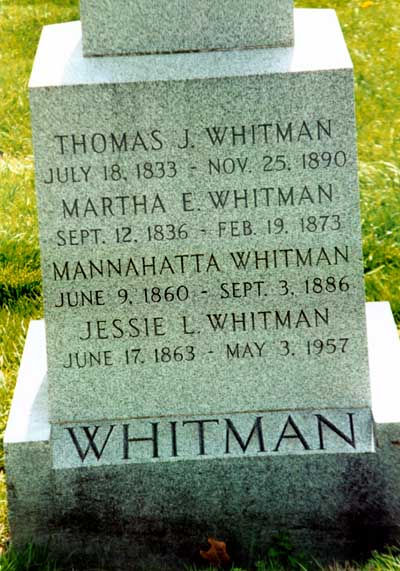 (Source: Findagrave.com/Connie Nisinger)