Notes for MANNAHATTA "HATTIE" WHITMAN:

Daughter of Thomas Jefferson and Martha "Mattie" (Mitchell) Whitman.
Born: June 9, 1860 in Unknown.
Died: September 3, 1886 in St. Louis, Missouri.
Buried: Block 24, Lot 2154; Bellefontaine Cemetery, Saint Louis, Saint Louis County, Missouri.
Thomas lived with his wife and their young daughter, Mannahatta "Hattie" at the Portland Avenue residence with Walt and the widowed Louisa Van Velsor Whitman until moving to St. Louis, Missouri in 1867 to become chief engineeer charged with building & overseeing waterworks for St. Louis.
Died of enteritis at the age of 26. She had been doing well after her mother's death in 1873, going to finishing school in the East and visiting her uncle, the poet, in Camden early. Her death took something out of Louisa Van Velsor Whitman, since Grandmother Whitman had helped take care of Hattie and her sister during the War Between the States. Named after one of Whitman's most famous poems in his book "Leaves of Grass."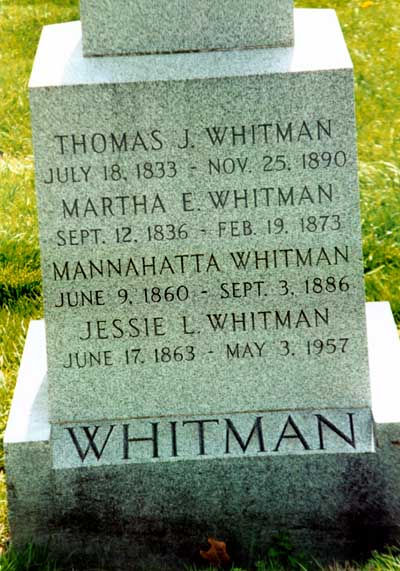 (Source: Findagrave.com/Connie Nisinger)