Notes for ERMINA MARTINDALE GEROW BUCK:

Daughter of Alpheus "Alfus" J and Caroline "Carrie" E (Van Velsor) Martindale, Jr.
Born: 1871 in Unknown.
Died: 1928 in Unknown.
Buried: Reed Cemetery, Lainsburg, Clinton County, Michigan.
Married: (1) William C Gerow Before 1887 in Unknown.
(2) HERMAN J Buck Before 1913 in Unknown.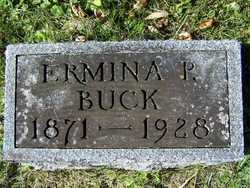 (Source: findagrave.com/James M Trendel)