Notes for ANDREW KETCHAM VALENTINE:

Son of Israel and Juliana (Ketcham) Valentine
Born: September 5, 1816 in Unknown.
Died: March 25, 1891 in Unknown.
Buried: Huntington Rural Cemetery, Huntington, Suffolk County, Long Island, New York.
Married: Rachel Whitson Unknown in Unknown.
Obituary
Long Islander
Valentine, Andrew K. - d. 25, March, 1891 at Cold Spring; interment at Huntington; son of Israel Valentine; father of I. Whitson Valentine; one of our oldest & best loved citizens; native of Woodbury.
Obituary
The Long Islander
April 4, 1891
The funeral of Andrew K. Valentine, which took place from the M.E. Church, at 1:30 o'clock Sunday afternoon, was very largely attended. Rev. Jabez Scott preached a very affective sermon. The remains were interred at the Rural Cemetery at Huntington.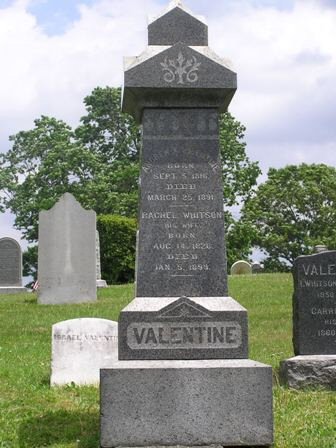 (Source: findagrave.com/gone gravin')