Notes for NATHAN JAMES VAN SISE:

Son of Nathaniel B and Annie Elizabeth (Treadwell) Van Sise.
Born: February 12, 1873 in Woodbury, Nassau County, Long Island, New York.
Died: November 9, 1926 in Locust Valley, Nassau County, Long Island, New York.
Buried: Bethpage Cemetery, Farmingdale, Nassau County, New York.
Married: Annie L Bedell Unknown in Unknown.
Obituary
Long Islander
Nathan J. Van Sise passed away Tuesday at his home on Columbia Place, Huntington Station, after only a few days illness, as the result of a stroke, from which he never regained conciousness. Mr. Van Sise was a native of this section, having been born February 12, 1873, the son of the late N.B. Van Sise and Annie Treadwell. He married in early manhood, Miss Annie Bedell, and of the children born to them, four with their mother survive. They are Nathan, Eva, Emma and William. A daughter, Annie, passed away only a short time ago. They moved here from Tupper Lake, but were residents of Farmingdale previous to going there. Funeral services were held this (Friday) afternoon, at the Lutheran Church in Farmingdale, and the interment was in the family plot at Bethpage.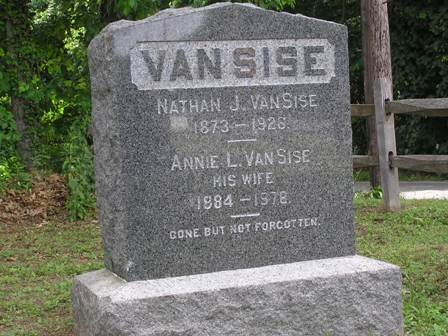 (Source: findagrave.com/"gone gravin'")