Notes for JOHN CORNELIS VAN SISE:

Son of Nathaniel B and Annie Elizabeth (Treadwell) Van Sise.
Born: May 6, 1853 in Woodbury, Nassau County, Long Island, New York.
Died: February 9, 1916 in Huntington, Suffolk County, Long Island, New York.
Buried: Bethpage Cemetery, Farmingdale, Nassau County, New York.
Married: Elizabeth Smith September 6, 1913 in Huntington, Suffolk County, Long Island, New York.
Obituary
Long Islander
John C. Van Sise, a former resident of Plainview, died suddenly Tuesday morning in this village. Mr. Van Sise was the son of Nathan Van Sise & Anna E. Treadwell, and was born at West Hills May 6, 1853, making him 63 years of age. He leaves two sisters, Mrs. I.J. Corsa and Mrs. William Hill, of Plainview and two brothers, James, of Farmingdale, and William, of this village. A widow, who left him directly after their marriage, also survives. The funeral services were held this Friday afternoon at the home of his brother, William Van Sise, on Mill Street, conducted by the Rev. Samuel H. Seem. The internmet was at the cemetery at Plainview. Mr. Van Sise left a considerable property, his neice, Miss Sadie Van Sise, of this place, falling heir to $5,000. He gave his wife 1/3 of his estate, and the Plainview Church was also remembered by a small bequest. Frank Marrs, of Hicksville, deceased, was willed $500.
Article in the Long Islander
September 12, 1913
On Saturday evening at the residence of Edward Smith on Fairground Avenue, Huntington Station, John C. Van Sise was united in marriage to Mrs. Eliza Smith, the Rev. Samuel H. Seem officiating. Miss Elizabeth Smith, a neice of the bride, was bridesmaid, and Edward Smith was best man. Only the immediate relatives were present. After the ceremony a wedding supper was served. Mr. & Mrs. Van Sise will reside in the groom's house at Huntington Station.
Article
Long Islander
September 19, 1913
As will be noted in the advertising columns, married life with John C. Van Sise is a sorry failure. On Sept. 6 last, the Rev. Samuel H. Seem, of the Central Church, tied him and his bride in a good, hard knot, but thus soon the wife, who was Mrs. Elizabeth Smith, is sorry the hitch was made, and refuses to live with her spouse. Van Sise is a man of 50 and well to do, and it is claimed that the wife wants his to sign over his property to her before she returns.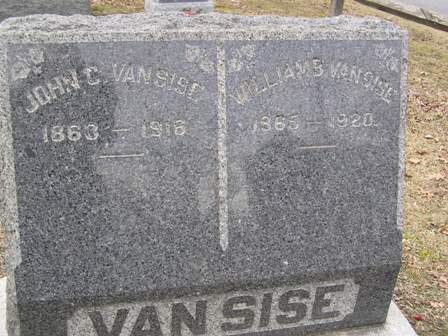 (Source: findagrave.com/"gone gravin'")