Notes for JEREMIAH VAN SISE:

Son of Israel White and Hannah M (Blatchley) Van Sise.
Born: April 21, 1850 in Woodbury, Queens County, Long Island, New York.
Died: August 8, 1923 in Woodbury, Queens County, Long Island, New York.
Buried: Memorial Cemetery of Saint John's Church, Oyster Bay, Nassau County, New York.
Married: Evelyn T Bayles Unknown in Unknown.
Obituary
The Long Islander Friday August 17, 1923
Jeremiah Van Sise passed away at his home at Oyster Bay Thursday morning of last week at the age of 73 years. His death was not unexpected, for he has been ill for several weeks, having been stricken while on a visit to his Oyster Bay home some time ago. He was a butcher and had been in that business in Oyster Bay for about 30 years having sold out about a year and a half ago.
Mr Van Sise was the son of the late Mr and Mrs Israel Van Sise and was born in Woodbury, in the Van Sise homestead on the Hicksville road. In early life he married Mrs Evelyn Bayles, of Oyster Bay, and she with three sons survive. They are Harold, Irving and Lloyd. He has one brother, Clarence and two sisters, Mrs I C Barnhart and Mrs D S Whitney, all of Woodbury.
Funeral services were held at his late home Sunday afternoon, the Rev John J Frost officiating, and the interment was in the Jones Memorial Cemetery.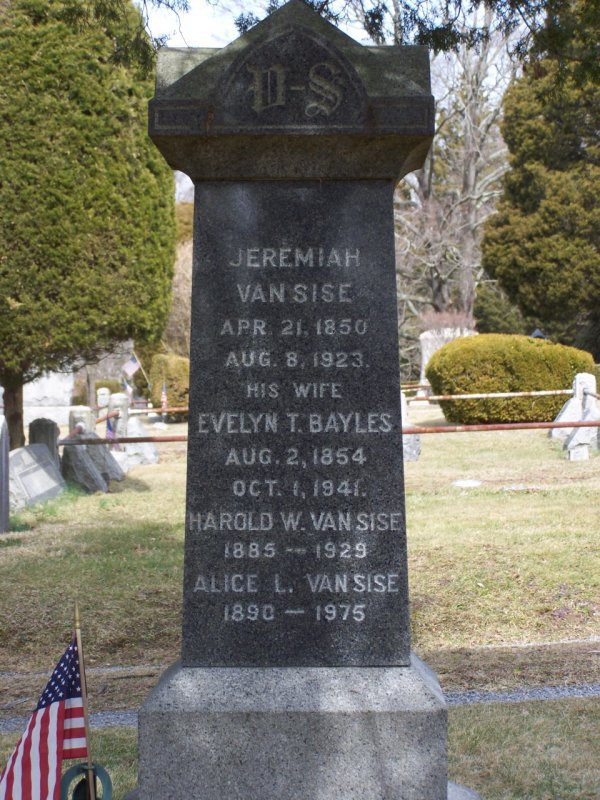 (Source: findagrave.com/Arleen Koello)