Notes for EMMA SAMMIS TITUS:

Daughter of George D and Mary J (?) Sammis.
Born: 1863 in South Huntington, Suffolk County, New York.
Died: March 23, 1935 in Syosset, Nassau County, Long Island, New York.
Buried: Brookville Cemetery, Upper Brookville, Nassau County, Long Island, New York. (With in-laws)
Married: Jeremiah V Titus Unknown in Unknown.
Obituary
29 March 1935
Long Islander
Daughter of George D. & Mary J. Sammis. Born in South Huntington. Died, 23 March 1935, Syosset. Resident of Syosset since her marriage to Jeremiah V. Titus. Mother of Mrs. George D. Carnes, George Titus & Samuel Titus - all of Syosset; grandmother of 7; great-grandmother of 1. "an ardent church worker" - long-time member of the Woodbury M. E. Church & later member of the Community Church of Syosset "where she has continued her labors, her interest being chiefly in the Ladies' Aid" funeral services at her late residence, Syosset by Rev. Penney of Community Church of Syosset.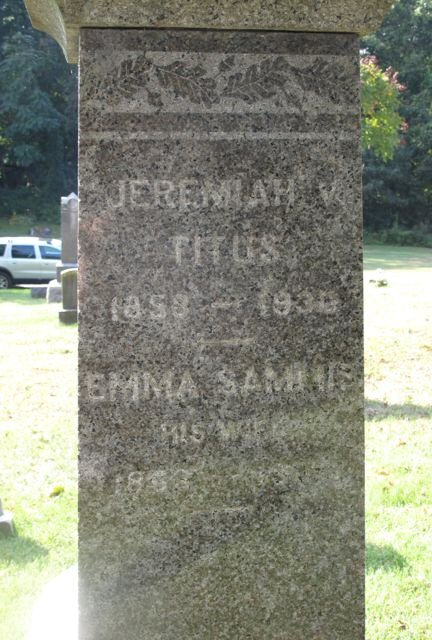 (Source: findagrave.com/Dyane)