Notes for JOSEF "YOSEF SHLOMO" BURG:

Son of Abraham and Sylvia (Stockhamer) Burg.
Born: January 1, 1909 in Dresden, Germany.
Died: October 15, 1999 in Israel.
Education:
1928: Graduated from Gymnasium, Dresden
1928-31: The Rabbinical Seminary in Berlin University of Berlin.
1931-34: University of Leipzig.
1933: Received Doctorate in philosophy, Dissertation about Logistic Neo-positivism.
1935-38: Rabbinical Seminary in Berlin.
1938: Ordained as Rabbi.
1939: Immigrated to Palestine as Research Fellow at Hebrew University of Jerusalem.
Degrees:
Rabbi.
Doctor of Philosophy -University of Leipzig.
Staatsexam fur das Hohere Lehramt, Leipzig.
Doctor Honoris Causa - Yeshiva University in New York.
Doctor Honoris Causa - Hebrew Jewish University of Chicago.
Doctor Honoris Causa - University of Bar-Ilan.
Doctor Honoris Causa - Touro College, New York.
Doctor Honoris Causa - University of the Negev, Beer Sheva.
Fellow - Jerusalem Institute of Technology.
Occupation:
Israeli founding father - Immigrated to Israel in 1939.
Rabbi.
Longtime Cabinet Minister.
Languages Spoken: Hebrew, German, English, French, Spanish, Latin, Greek, and Yiddish.
Married: Rivka Slonim May 23, 1943 in Israel.

Obituary:
Detroit News Friday, October 15, 1999
Josef Burg, an Israeli founding father, dead at age 90
By JACK KATZENELL/Associated

JERUSALEM -- Josef Burg, an Israeli founding father, longtime Cabinet minister and advocate of coexistence between religious Jews and secular Israelis, died today at a Jerusalem hospital. He was 90.The German-born Burg who escaped to pre-state Palestine just before the outbreak of World War II in 1939, was a figure of moderation and reconciliation in Israel's rough-and-tumble political scene. "His most important legacy is that he tried to build a bridge over the biggest gulf in Israeli society, the gulf between religious and secular Jews," said Israel's elder statesman, former Prime Minister Shimon Peres. "He was a religious man but he believed in compromise."

Prime Minister Ehud Barak said Burg took the path of moderation and tolerance and showed a love for Jewish traditions. Burg was an avuncular man with a round face and glasses, famous for his erudite wit. Political writers dubbed his appearances at question time in parliament "Burgtheater," after the famous playhouse in Vienna. Burg died at Jerusalem's Shaarei Tsedek Hospital early today, said hospital spokeswoman Orna Cohen. She did not give the cause of death.

Born in Dresden, Germany, in 1909, Burg was active in the Young Mizrahi religious Zionist movement while attending universityin Leipzig. He was studying in Berlin when the Naziscame to power in 1933, but he managed to complete his doctorate as well as qualify as an ordained rabbi. In 1939 he came to Palestine, and worked as a high school teacher, but was soon elected to the executive committee of the as a pre-state shadow government for the Jews in Palestine.

He was one of the founders of the National Religious Party (NRP), which has been a coalition partner in almost every Israeli government, whether of the right or the left. Burg viewed the NRP as a bridge between the ultra-Orthodox and the secular, and between the left and right wing in Israeli politics. He had a habit of hyphenating the expression "national religious" and when he was asked which of the two elements was more important in the doctrine of his party, he quipped "the hyphen." For 19 years, the NRP played a centrist role in Israeli politics, but when Israel captured the West Bank and the Gaza Strip in the 1967 Mideast war, the younger generation in the party moved rapidly to the right. For them, the West Bank was the heartland ofthe biblical land of Israel and they spearheaded the movement to establish Jewish settlements there. Burg remained a Cabinet minister until October 1988, but the leadership of the NRP had long since passed into the hands of the younger generation. He served in the Cabinet for 38 years.

In 1977, he was placed in charge of peace negotiations with Egypt. Burg wholeheartedly supported the 1979 land-for-peace deal, but many in his party opposed it, fearing an Israeli withdrawal from the Sinai Peninsula would set a precedent for a pullback from the West Bank. Peres said Burg would bring along hard-boiled egg sandwiches to the negotiations in Cairo and Alexandria so he would be able to keep Jewish dietary laws.

In addition to Hebrew and German, Burg spoke English, French, Spanish, Latin, Greek and Yiddish. He is survived by a wife, a son and a daughter. The son, Avraham Burg, is the current speaker of Parliament. Burg's funeral is scheduled for Sunday.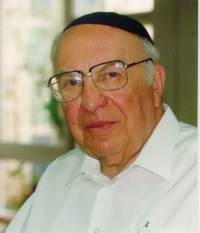 Obituary - Detroit Press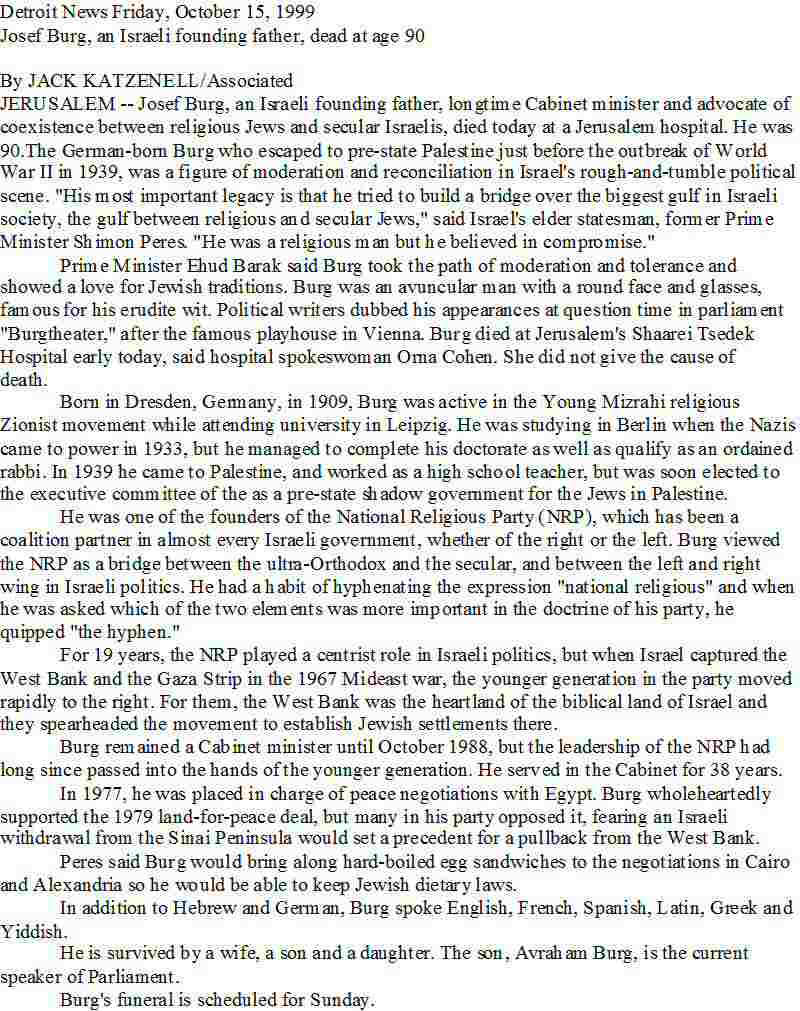 Obituary - Jerusalem Post