Notes for IDA SOPHIA SCUDDER:

Daughter of Dr. John and Unknown Wife Scudder.
Born: December 9, 1870 in Unknown.
Died: May 24, 1960 in Kodaikanal, India.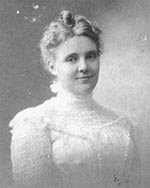 Ida Scudder With Mahatama Gandhi - 1928.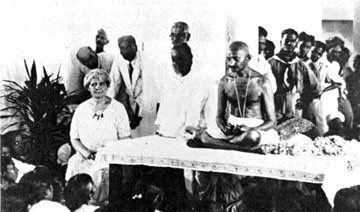 Ida Sophia Scudder (December 9, 1870 - May 24, 1960) was a third-generation American medical missionary of the Reformed Church in America. Her father was Dr. John Scudder, Jr. She was a granddaughter of Rev. Dr. John Scudder, Sr. She dedicated her life to the fight against plague, cholera and leprosy and the plight of Indian women. n 1918 she started one of Asia's foremost clinic-medical schools, the Christian Medical College & Hospital, in Vellore, India. Hear Dr. Scudder tell her own story.
As a girl, her last idea was to spend her life in India, even though it might be the Scudder family tradition. As a child in India, she saw all too much famine, poverty and disease. After a Massachusetts seminary, Ida expected to get married and settle down in the U.S., but, in her early 20s, Ida Scudder went back to India to help her ailing mother at her mission bungalow at Tindivanam. Ida Scudder took her M.D. at Cornell in 1899, then headed back to India, fortified with a $10,000 gift from a Manhattan banker. With the money, she started a tiny clinic for women at Vellore, 75 miles from Madras. In two years she treated 5,000 patients.
Ida S. Scudder realized that she would be foolish to go on alone in her fight to bring better health to South India's women. So she decided to open a medical school for girls. Skeptical males said she would be lucky to get three applicants; actually she had 151 the first year (1918), and has had to turn many away ever since. At first, the Reformed Church in America was the main backer of the Vellore school, but since Dr. Scudder agreed to make it coeducational it has the support of 40 missions. Of 242 students today, 95 are men.
In 1953 at a sprightly 82 years old, Dr. Scudder sat in her bungalow Hilltop at Kodaikanal, overlooking the Vellore Christian Medical College and its hospital, and opened a stack of letters and telegrams. Her name is a famous one in India. A letter once reached her addressed simply, "Dr. Ida, India." But the mail was heavier than usual because friends around the world were congratulating her on winning the Elizabeth Blackwell Citation of the New York Infirmary, as one of five outstanding women doctors of 1952. She died at age 90, of a circulatory ailment, in Kodaikanal.
A commemorative stamp was issued on August 12, 2000 as part of centenary celebrations of Christian Medical College, Vellore. The stamp's design depicts the college chapel, the motivating monument of the medical college and a hospital symbolising the ethos of the institution. The First-day cover portrays Dr Ida Scudder, who founded the institute in 1900, working for the medical requirements of pregnant women.
(Source: Wikipedia.org)