Notes for WILLIAM JAMES ROE, JR:

Son of William James and Anna Lawrence (Clark) Roe, Sr.
Born: September 1, 1843 in Newburgh, Orange County, New York.
Died: April 3, 1921 in New Windsor, Orange County, New York.
Married: Mary Stuart Norton July 1, 1867 in Buffalo, Erie County, New York.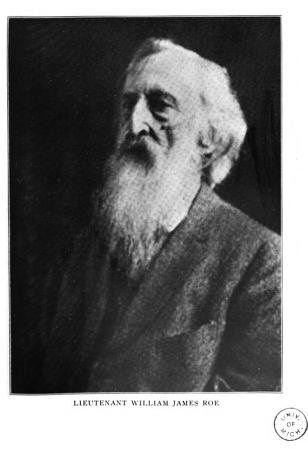 Annual Report of June 12, 1922 by United States Military Academy Association of Graduates
WILLIAM JAMES ROE
No. 2209 Class of 1867
Died, April 3, 1921, at New Windsor, N. Y., aged 77 years.
William J. Roe died at New Windsor, near Newburgh, N. Y., April 3, 1921.
Born at Newburgh, N. Y., September 1, 1843, the only child of his parents. His father, William J. Roe, was a well-off retired business man of New York. His mother was formerly Anna Lawrence Clark, also of New York City.
His original pregenitor, John Roe, settled in Port Jefferson, Long Island, in 1641.
His great grandfather, James Roe, of Kingston, New York, was commissioned in the patriot army (1775-78) by Governor George Clinton. His preliminary education was obtained at Russell's School in New Haven, Conn., and at M. L. Domanski's in Newburgh, N. Y.
He left school at fifteen years of age to study law in the office of Hasbrouck & Taylor in Newburgh (William C. Hasbrouck, father of Brigadier General Henry C. Hasbrouck, U. S. A.).
At outbreak of Civil War he enlisted in a volunteer company, afterwards part of the 124th New York, and was elected Sergeant, but was never mustered in on account of parental opposition. At this time his father took him to Europe, promising that if the war was not over in six months there would be no further opposition. While in Europe a West Point cadetship was suggested, and on his return to America the idea was made more attractive by the fact that while Lieutenancies were comparatively easy to obtain, the ambitious among his contemporaries were striving for appointments to the U. S. M. A. He succeeded in obtaining this much coveted prize and reported at West Point, June 9, 1863.
He was graduated June 17, 1867.
July 1st of the same year he was married at Buffalo, N. Y., to Mary Stuart Norton, niece of General S. P. Heintzelman, U. S. A., of Civil War fame, and cousin of his classmate, Charles Stuart Heintzelman.
At about this time, owing to his father's sudden breaking down in health, he obtained a leave of absence from the army and was given charge of his father's considerable property.
He subsequently, with feelings of great regret, resigned from the army. In about 1870 he purchased some 80 acres of land near Newburgh and built two fine stone houses as homes for his parents and himself.
In 1875 his father died, and shortly after he lost, through unfortunate investments, practically all his property. Attempting to retrieve this loss, he engaged in business in New York City, and in 1881, and for a number of years, was president of the Hydrogen Company of New York and New Jersey, which was engaged in perfecting a process for so treating iron parts as to make them not susceptible to rust. Works were erected on West 18th Street in New York and endeavors were made to place the process on a commercial basis, but without success. The chief reason for this seems to have been that, although the samples produced were all that was claimed for them, still the process was not uniformly successful.
Another enterprise to which he devoted a great deal of time and labor, subsequent to the final collapse of the Hydrogen Company, was the Maryland & Delaware Ship Canal Company, sometimes called the "Sassafras Route", the object being to construct a canal across the peninsula of Maryland and Delaware (considerably south of the existing barge canal) and shorten the time of north and east-bound vessels from the port of Baltimore by about one day.
In 1895-96-97 he was warden of the New York County (Ludlow Street) Jail. This was during the "reform" administration of Mayor Strong. It was common knowledge that previous incumbents had made large sums by granting special privileges to prisoners able to pay, but he treated all alike, and took only his salary of $3,000. He found the jail in bad condition, no baths, sewage clogged, insufficient number of keepers, no matron, and no accommodation for women prisoners. These defects were remedied under his administration. In the winter of '96-'97 there were several escapes of criminal prisoners. An investigation established the fact (as officially reported) that his warnings of danger of escapes had been disregarded, and that he had done his full duty. The sheriff, however, asked for his resignation, which he refused to tender "under fire", and he was peremptorily removed.
Roe's financial reverses put him on his metal to recoup his fortunes, and was the turning point in his career. Many officers who have left the army for civic pursuits have complained that the code of morals enforced at the Academy and .in the army was a handicap in business competition, and Roe confessed that some of his financial difficulties were due to the acceptance in good faith of unscrupulous representations.
All his life he had been more or less engaged in writing for the press, but from about 1880 he took it up as a means of increasing his income, continuing it through all his business ventures and while warden at Ludlow Street, and until a few weeks of his death.
He seems to have begun the exercise of his literary faculty without more purpose than the writing of entertaining stories, and during this period he produced several novels, "White Feathers", "A Model Wife", and "Cut", a story of West Point. Of these, "Cut" was by far the most successful and contains a good deal of brilliant writing, and has been said to give the most faithful account of cadet life of any piece of fiction.
But it was not long before the philosophical trend of his mind began to show itself, and in 1886 he produced "Inquirendo Island", published by the Putnams and later by the Twentieth Century Company and C. H. Kerr & Company, a satire upon empty religious formalism, which aroused a great deal of controversy both here and in England. It was praised and denounced both by pulpit and press, and, proof that the seriousness of its intention did not altogether fail of recognition some of its most commendatory notices appeared in religious journals.
It was followed by "Bellona's Husband", a romance, the scene of which was on the planet Mars, intended to demonstrate the universatility of human nature and the absurdity of so-called materialism.
"The Last Tenet", a whimsical story of Eastern life, demonstrated the part that chance played in religious upbringing and the futility of orthodox training as a guide to conscience.
In more serious vein were "The Philosophy of Divine Man", an analysis of the value and meaning of the life and revelation of Jesus of Nazareth, published serially in the Metaphysical Magazine.
"Fiat Morals", an analysis of the value, meaning and motive of the Ten Commandments, published serially in "Mind".
"The New Apochrypha", stories, fables and parables illustrative of phases of ultimate ethical truth, supplementing the teachings of the New Testament, published serially in "The Open Court". While serious in intention, and each conveying its lesson, these Apochrypha are full of humor and satire, cf which he possessed a rich fund, surprising those who had heretofore known only his serious side.
"John Morton's Morals" and "Scarlet Gods" were novels, both published serially in The Home Journal, and both deserving ro be classed with his philosophical works.
"Royal Americans", a novel published serially in the Yonkers Gazette, and satirizing the snobbery of that class of Americans who are unduly fond of exploiting their real or imaginary ancestry.
"Faith's Foundations", elements of moral science—Platonic Dialogues, published serially in the Episcopal Recorder and in the Boston Investigator.
"A Dikastery of One", a plea for the religion of science.
His was a mind fully alive to the questions of the day, both economic and scientific, and many articles from his pen appeared from time to time, called out by passing events. Of these the most notable were a series of articles, entitled "Slaves of the Lamp", dealing with questions important to workingmen and trade unions, appearing serially in the Journal of the Knights of Labor. "Waterway Defenses of the Atlantic Coast" and "New York's Ten Thousand" (both printed in the Popular Science Monthly), the latter particularly interesting to West Pointers, as it laid before the reader a plan for training the New York policeman, based upon the training of the cadet at the U. S.. Military Academy, proved that he still retained the point of view of the potential army officer.
"Other Worlds Than Ours" were a series of spirited guesses as to what conditions prevailed in other planets, written mainly for the purpose of interesting the youthful mind in the subject of astronomy. Published serially in Open Court.
He was a tireless student of history, and was the author of many articles and stories, retelling in an entertaining way for boys the facts of history, both ancient and modern, but devoting himself particullarly to the history of our own country. To everything of this nature he gave an intimate humanizing touch, and the subjects treated are very great in number, appearing in a wide range of boys' periodicals.
Versatile as the wide extent of the literary field he covered shows him to be, his ability had a still wider range. He was an artist of no mean gift, and besides his drawing and painting, and his decorative work upon wood in pen and ink, the admiration of his friends, he illustrated many of his historical articles.
Poems, too, come from his pen in great volume, grave and gay, whimsical and solemn, dealing now with the vast thoughts of the Infinite, now with some touching, intimate phase of domestic life, or some comical incident of his own observation. A few years ago some of these were collected in a small volume called "An Inn for Journeying Thoughts". But for the most part they are buried in the files of newspapers and magazines, except where here and there one found lodgment in some human heart or memory.
Roe may be said to have thrown away a very considerable literary reputation, whether from a kind of modesty or because of a lofty disdain of anything like notoriety seeking or popular approval, by his habit of using a number of different noms de plume, for the most part variations upon his own name, so that in effect he really built up a number of minor reputations. He often said it was the light that counted, not he who carried it. Works of a philosophical nature appeared under the pen name of Hudor Genone, novels under that of G. I. Cervus, and pcems were usually signed Viroe. In later years a considerable portion of his work appeared under his own name.
For the last few years of his life he was engaged upon a work entitled "The Nature of Reality", which was to be his magnum opus. Appearing originally in a series of articles in the Christian Register, it was later pruned, elaborated and pursued throughout all its ramifications in a manner possible only to a mind stored with a vast learning, and a heart strong with a great purpose. It was an attempt to harmonize the facts of science with the truths of religion. In language glowing with supernal beauty and yet tuned with the precision that was characteristic of him in all things, rich in imagery, corollary and scientific fact, it set forth the truth as he saw it, of God and the universe, and of man in his relation to God in this life and the life to come. He lived to see it finished, though it is still unpublished.
Roe's early education, his travels abroad, his study of law and the discussions in the law office, prepared him for a high class standing had he availed himself to attain it; he had the abilities and advantages to win. However, he preferred leisure to read books, to clerk for the First Sergeant Major, or the Adjutant, and on special duty making a topographical map of the reservation. Probably the only academic duty he enjoyed was in the drawing academy. He was an artist and had the artistic temperament. Given a subject to copy that appealed to his artistic sensibilities, he would study it awhile and then start his work with an absorbed earnestness and energy. The professors and instructors, particularly Colonel Poland, in making their remarks, would linger behind him and with evident pleasure watch his progress. We tyros used to think his "calamities", as we called them, were better than the originals. He used his imagination. He soon grew beyond the "calamities". Nearly always when the instructor would be called out of the section room Roe would jump to a vacant blackboard and draw a caricature of some individual or a cartoon illustrating some subject of the day's lessons. In this indifference to class standing and apparent neglect of his opportunities, but filled in by his readings and drawings, may be seen his aptitude and preparation for his chosen life work, literature.
Back in the days of the Civil War politics was more or less rampant among the grey clad cadets and the sallyport became a sort of Mason and Dixons line. Notwithstanding that many of the cadets from the Southern States had resigned, there remained those of the Border States and a few from others of the Southern States that had seceded. The most of the Southerners preferred and were assigned to C and D Companies, west of the sallyport. Those of liberal or radical views preferred assignment to A and B Companies, east of the sallyport. When the corps was "sized" after the breaking of our plebe camp Roe was assigned to D Company, where he, being a democrat, was tolerated, and I having been proclaimed as a Black Republican Abolishionist gravitated to A Company. Propinquity is the father of friendships as well as the mother of marriages and the sallyport was sort of dividing line, and in a general way intimacies were more likely for them on the same side of the sallyport. Class assemblages in those days were rather rare, except for drills and academic duties. There were no athletics as now to encourage and cultivate comradry. Roe and I were usually in the same sections, knew each other well and were always on friendly terms, but our intimacy came many years later.
Before our graduation Roe had determined to apply for the Artillery branch of the service. Although written with another purpose in view, I shall let him tell the story himself and his own comment.
"A cadet began his course in 'Artillery Tactics' highly resolved to 'max it through', but though his first recitation was, as he confidently reckoned, perfect, he was cut by the instructor two-tenths (getting a mark of 2.8 out of a possible 3). This was reckoned by the lad as a piece of rank injustice. Being of a choloric temper his foolish notion of 'getting even' was to leave his text-book unopened for the balance of the course. In the end very naturally his aggregate of efficiency was reported as virtually nil.
"The Commandant of Cadets also had his ideas as to 'getting even', far wiser than those of this bumptious youth. He sent for him.
'Mr.', he said curtly, 'you will take command of the foot battery this afternoon!' The cadet saluted and withdrew, downcast enough, but in no mood either to 'squeal' or 'lay down" on the job. Thus put upon his mettle he pitched in and 'boned' artillery tactics, and at four that afternoon put his detachment through the usual routine 'without turning a hair'. And not only that, but he dismounted pieces, limbers and caissons, so that not one of the gunners believed order could ever be evolved out of the chaos. But it was; our cadet had his spunk up; he called together the chiefs of pieces, went over the details of 'reconstruction' with them, and when sure that they and all the detachment understood their duties, he gave the command: 'Mount the pieces, limbers and caissons and fire a round', adding cheerily (something not laid down in the curriculum), 'Get a hustle on, men! See which piece can fire first!'
'The ordeal by hustle had been noised abroad among the officers on the post, and our cadet had a big audience. When the squad was marching back to the area of barracks, on the corner by the Academy building stood the Commandant and Lieutenant—(the officre who had 'cut' that two-tenths). Our cadet was about to raise his sword, when the two officers raised their hands to their forage-caps and saluted first.'
"This sort of thing is not exceptional; it is typical of the training, and can be matched many times among the records of graduates. I revere West Point. Its discipline; its high motives; its supreme code of duty and honor have saved me (as I do not disdain to confess) from being a conspicuous ass. It seems a pity that other educational institutions have not always done the same good work for some ill-advised critics."
That was Bill Roe. He rose to the emergency and succeeded.
That Roe had a pardonable but not boastful pride in his ancestry was attested by the numerous fine portraits that adorn his home.
Notwithstanding his early separation from the army, he always retained a keen interest in the service and glorified it often in his writings.
The Necrologies of the Association of Graduates and his steady attendance at the annual reunions gave ample eviednce of his devotion to the Association, the Academy and his classmates.
His genial and striking personality made him known to all; the gladsome greetings were met by ready responses and gave him hearty welcomes.
He was domestic in his habits; his family and tenants were devoted to him. The charm of his home on the family estate made life agreeable. Thus surrounded he carried on his work happily until a few months before his death. The tragic death of his elder daughter, Nan, as she was affectionately called, in an automobile accident when en route to the 1920 Army and Navy football game, was a shock from which he never fully recovered his optimistic poise; he seemed gradually to lose interest in life, its charm was broken, and he passed away without regret.
A son, William J., and a daughter, Mary Stuart (Mrs. Lee Woodward Zeigler) and a granddaughter, survive him.
GREETING
TO WILLIAM JAMES ROE
By CLARA BELL BROWN
Sister of James Edward Bell, Class of "67".
The sun -light-giver - -into darkness sinks.
And purple shadows drape its dying hour;
So thy great soul into the valley goes.
And seeming death the flame of light puts out.
But, after darkness of the night hath gone,
-The illusion of the setting sun forgot-
Blazing again with light as yesterday.
The sun, resplendent, makes the day re-born.
So. from the shadow of a seeming death,
Thy patient, seeking soul emerges, and
The light that came from thee on yester-e'en,
Shines on the morning of another birth.
For the Great Poet never sang of "death",
Only its shadow o'er the valley broods:
Out from that cloud thy soul immortal beams.
With radiant tenderness - "as of old".
We do not say "farewell", beloved one;
But welcome thee to birth into that life
Which thy soul, clear-orbed, saw so steadily,
Wbale still thy presence graced thine earthly home.
So - Greeting to thee, valiant heart! and love
Encompass thee upon thy future way.
We may not grieve, though deeply missing thee,
Because thy soul hath but been born again.
E. S. GODFRAY.