Notes for THOMAS FRANKLIN BARRIER, REV.:

Son of Henry and Sarah Ason (DeSopp) Barrier.
Born: February 4, 1865 in Lexington, Davidson County, North Carolina.
Died: June 27, 1950 in Redlands, San Bernardino County, California.
Buried: Plot: Block 41, Lot 44; Maplewood Memorial Lawn Cemetery, Emporia, Lyon County, Kansas.
Married: Mary Scudder Meeker September 6, 1899 in Wooster, Wayne County, Ohio.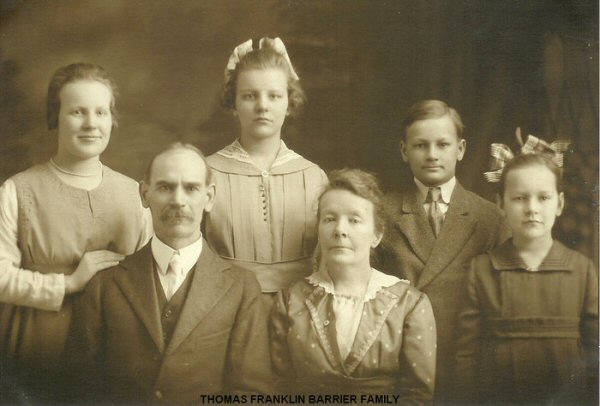 Thomas, Mary, with children L/R Dorothea Linda, Laura Meeker, Paul Franklin, Sara Catherine Rue
(Source: findagrave.com/Glenn Barrier)


Obituary
Former Eurekan Dies In California
Rev. Thomas Franklin Barrier passed away at the home of his daughter, Mrs. Laura Lenox in Redlands, California, June 27 1960. The body was brought to Emporia for burial.

Rev. John Meeker, his brother-in-law, was in charge of grave-side services Saturday at 2:00 p.m. at Maplewood cemetery.

Mr. Barrier was born February 14, 1865 In North Carolina. The son of the late Mr. and Mrs. Henry Barrier. He came to the old home near Eureka at the age of 5 years.

He and Mary Meeker were married September 6, 1899 In Wooster, Ohio.

He is survived by the widow of the home, three daughters, Mrs. Dorothea Clark of Shreveport, La.; Mrs. Laura Lenox of Redlands, California; Mrs. Catherine Viehe of Los Angeles, California; a brother, John Z. Barrier of Eureka two sisters, Miss Sarah Barrier of Eureka; Mrs. Cora Scott of Chico, California; also seven grandchildren.

A retired minister, Mr. Barrier attended the College of Emporia, and was graduated as Valedictorian of his class in 1893. He received his Bachelor of Divinity degree from the Princeton Theological Seminary in New Jersey in 1896 and was awarded an honorary Doctor of Divinity degree from the College of Emporia In 1922.

He was pastor of Presbyterian churches in Kansas and Oklahoma including Wichita, Cottonwood Falls, Yates Center, Blackwell, Oklahoma, Pawnee, Oklahoma and Miami, Arizona.

He also taught at Tulsa University and Westminster College, Fulton, Mo.

Several years ago Mr. Barrier retired and moved to Redlands, California, to live with his daughter Mrs. Lenox, and family.

Those attending the burial services from Eureka were Miss Sarah Barrier, Mrs. Cora Scott, Mrs. Marie Garland, Mr. and Mrs. Chas. Klein.




Thomas Franklin Barrier Published a book about the Barrier Family titled:
A Brief Biography of Henry Barrier.
With sketches of the lives of His Ancestors and Descendants.
Tempe, Arizona, November 1, 1941.