Notes for JOSEPH FRANKLIN ROE:

Son of William Franklin and Helen (Bothwick) Roe.
Born: June 27, 1872 in Candor, Tioga County, New York.
Died: January 11, 1949 in Lestershire (now Johnson City), Broome County, New York.
Buried: Maple Grove, Cador, Tioga County, New York.
Residence: 1944 - Binghamton, Broome County, New York.
Occupation: Doctor in Binghamton, New York.
Married: Myrtle Lucilla Bodle December 19, 1899 in Unknown.
A largely successful surgeon, widely known along the general line of his specialties,the eye, ear, nose and throat. He serves as a oculist for the Binghamton City Hospital, and he is a member of the National Opthalmological and Otological Society, the American Institue of Homeopathy, the New York State Medical Society and the Broome County Medical Society.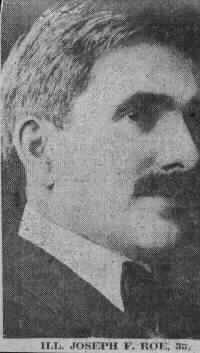 1930 Census - Binghamton, Broome, New York
Name: Joseph F Roe
Event: Census
Event Date: 1930
Event Place: Binghamton, Broome, New York
Gender: Male
Age: 58
Marital Status: Widowed
Race: White
Birthplace: New York
Estimated Birth Year: 1872
Immigration Year:
Relationship to Head of Household: Head
Father's Birthplace: New York
Mother's Birthplace: New York
Enumeration District Number: 0017
Family Number: 332
Sheet Number and Letter: 13A
Line Number: 36
NARA Publication: T626, roll 1406
Film Number: 2341141
Digital Folder Number: 4660959
Image Number: 01119
Household Gender Age
Joseph F Roe M 58
Beverly Roe F 12
Lottie Legg F 53