Notes for JOHN ELTING ROE:

Son of James Gilbert and Elizabeth (Elting) Roe.
Born: November 28, 1774 in Kingston, Ulster County, New York.
Baptism: March 2, 1805 at Virgil Church, Virgil, Cortland County, New York.
Died: January 13, 1831 in Virgil, Cortland County, New York.
Buried: Virgil Cemetery, Virgil, Cortland County, New York.
Married: Charlotte Merritt January 30, 1796 in Ulster County, New York.
John was one of 13 scholars who attended the first grammer school in Virgil, New York taught by Mr. Henry Hall, in the year of 1819. In the year of 1834, John and his brother Sylvester M Roe, set up a store in Freetown Corners, New York being the second merchants in Freetown. John was also listed in the Marathon Presbyterian Church Records as clerk, a position he held for many years.
In the spring of 1797 John E. Roe came on from Ulster county, and made a beginning on his lot (the same afterwards occupied by himself and family, the site of his house now being occupied by Asa Price), boarding with Mr. Frank. He cleared a spot, put up the body of a log-house, split plank and laid a floor, peeled bark for a roof and agreed with a man in Homer to put it on. He also cut and cured some of the wild grass growing in the swamp for hay, and returned. Preparations were then made for moving on, which was done in the winter following. He and his wife came in a sleigh with a young cow following them. When they came to the river opposite Mr. Chaplinís they found the water high and the canoe that had been used in crossing carried away. Mr. Chaplinís hog-trough was procured and Mrs. Roe was safely carried over in it. She then stood upon the bank to await the crossing of what remained. The horses being urged in, swam across with the sleigh, the cow followed, and came near being carried away by the current, but after a hard struggle made the shore in safety. They put up for the night, the horses being fastened to the sleigh, as no accommodations could be procured; and they ate from the bottoms of the chairs, to allay the keen demands of appetite. The snow was two feet deep, with no track, and the whole day was consumed in coming from the river to their new home. When they arrived they were surprised to find their house without covering, consequently the snow was as deep in it as out of it. Persons of less perseverance would have been disheartened. But no time was to be lost. The snow was cleared away from a portion of the floor, a fire built against the logs, some blankets drawn across the beams for a covering, the horses tied in one corner with some of the coarse hay before them, and their first and several successive nights were passed.
John E. Roe and Charlotte Roe were the parents of five children, who lived to mature life. The eldest, Betsey N. Roe, was reputed to be the first female child born in the town. She grew up an intelligent, exemplary woman, early made profession of religion, adorning the same by a life devoted to its interests. She removed to a western State, and since has died.
Thus in February, 1798, there were four families in the town, separated by long distances from each other, almost without roads, suffering in many respects for the necessaries of life, exposed in their property and persons to the ravages of wild beasts, and far from sympathetic friends. But the dark, howling wilderness must be changed to fruitful fields, and these were the pioneers to lead on this great work. Wild beast were very numerous, especially deer. Mr. Roe related that he had sat in his house and seen twenty-five pass in a drove. There were also many wolves and bears, and Mr. Roe and Captain Knapp caught and killed fifteen wolves in one year; and during the time when they were prevalent, Mr. Roe lost by them fifteen head of cattle and a large number of sheep. Their ravages were general, and subjected the inhabitants to the necessity of folding their sheep every night for about fifteen years.
For a series of years the settlers suffered great hardships and privations, but they gradually diminished, so that in 1809 or í10 most of the necessaries of life were accessible to the mass of the people.
(Source: findagrave.com/Benjamin Wells)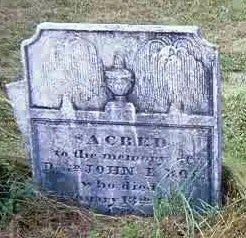 (Source: findagrave.com/Benjamin Wells)