Notes for GERRISH BARRETT, REV.:

Son of Benjamin and Betsey (Gerrish) Barrett.
Born: July 4, 1797 in Royalston, Worcester County, Massachusetts.
Died: August 3, 1857 in Springfield, Otsego County, New York.
Buried: Middle Valley Cemetery, Springfield, Otsego County, New York.
Religion: Presbyterian.
Married: Catherine (nee Cooley) Purdy 1847 in Springfield, Otsego County.
Gerrish was the 2nd son of Benjamin Barrett and his wife Betsey Gerrish of Massachusetts where the Barrett family had settled from England in the 1600s.
The Barrett family came to Otsego county NY soon after 1810 from NH and were respected religious leaders as well as farmers and business owners in Springfield NY.
As a teenager Gerrish studied under Presbyterian Rev. Levi Cooley of Cherry valley and at the Cherry Valley Academy for preparation to enter the Ministry.
He attended Phillips Academy in MA for 2 years and graduated from Union College in Schenectady in 1824. He immediately entered Princeton Theological Seminary and graduated in 1827.
He began as minister at the State Prison in Sing Sing, NY and stayed in the prison system as minister and avid reformer until 1847 when he retired to Springfield NY at the family farm.
(Source: findagrave.com/Denise Haviland)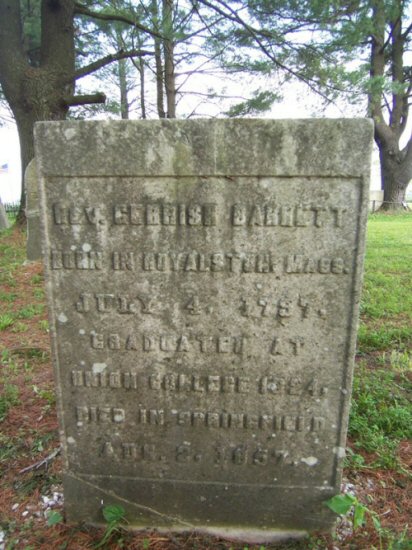 (Source: findagrave.com/Denise Haviland)


Gravestone Inscription
Inscription:
Rev. Gerrish Barrett
born in Royalston, Mass.
July 4, 1797
Graduated at
Union College 1824
Aug. 2 1857