Notes for FRANK ELIHU GRANGER:

Son of Elihu and Margaret (?) Granger.
Born: March, 1859 in Chicago, Cook County, Illinois.
Died: After 1930 in Unknown.
Census:
1870 - Ward 20, Chicago, Cook County, Illinois.
1900 - ED 44, Ward 2-3, Aberdeen, Brown County, South Dakota.
1930 - Aberdeen, Brown County, South Dakota.
Occupation: Founder of the Granger Business Schoolof stenography (1900).
Religion: Presbyterian.
Married: Fannie E Roe November 27, 1883 in Unknown.
1870 Census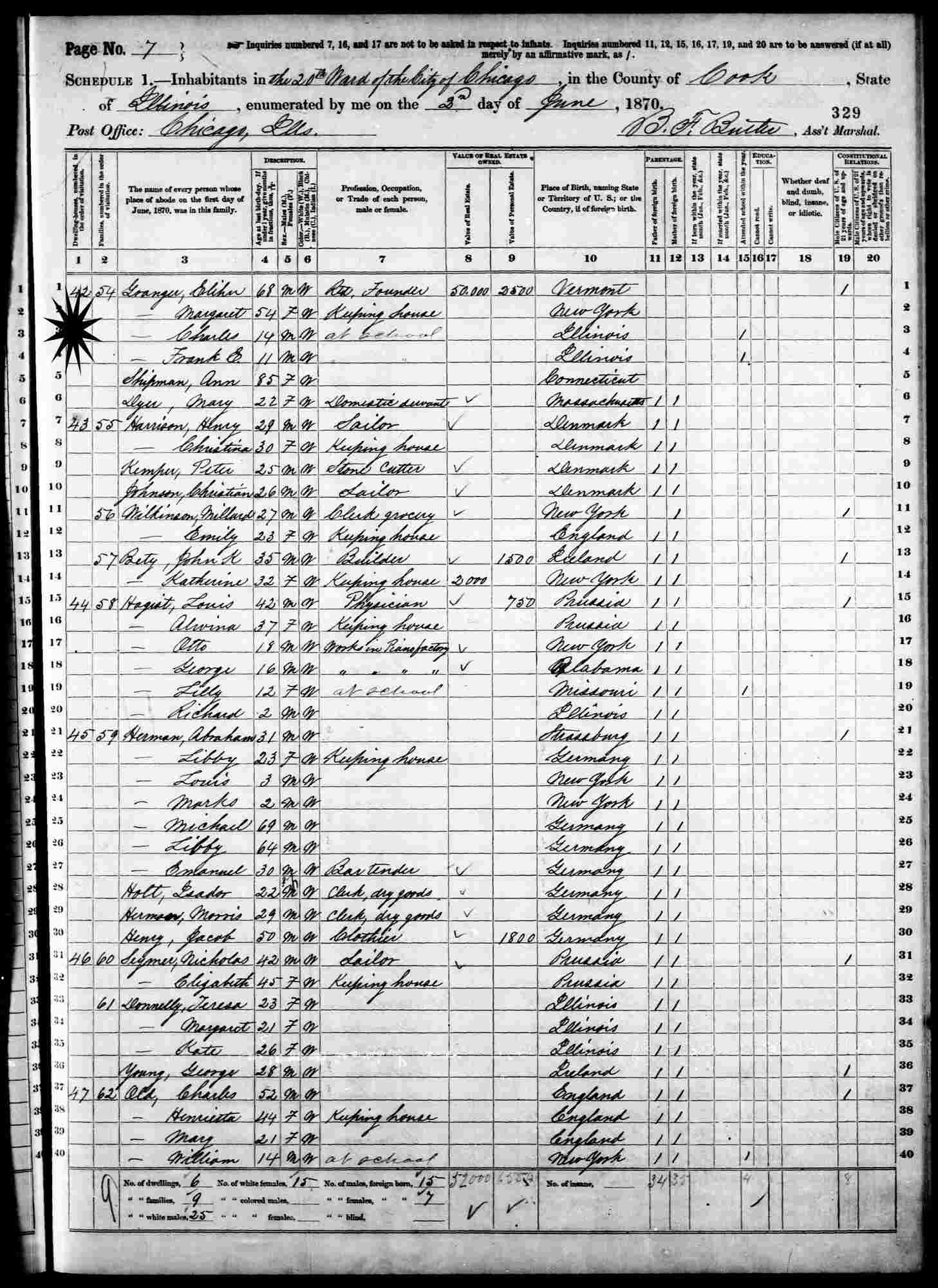 1900 Census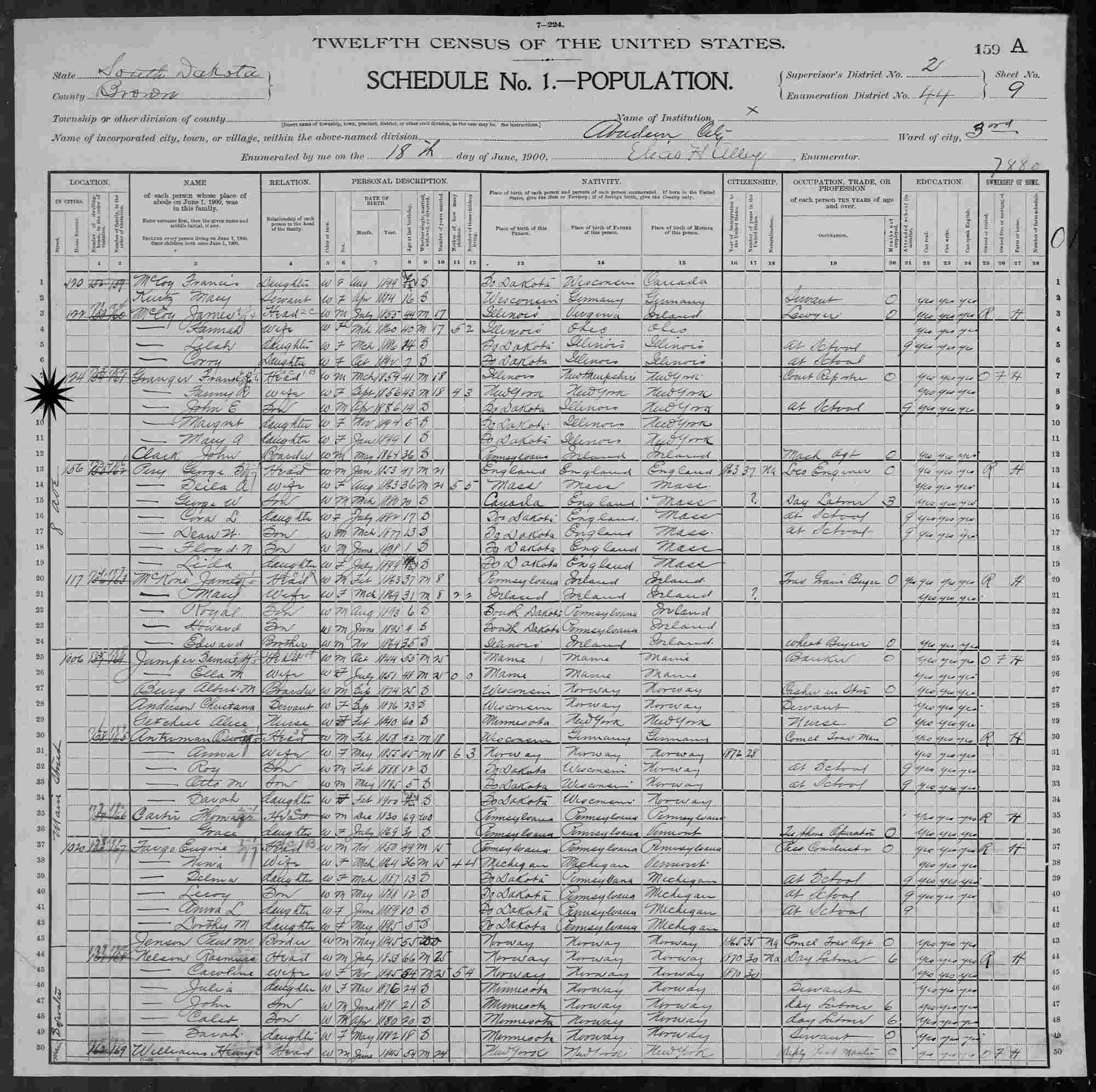 1925 South Dakota State Census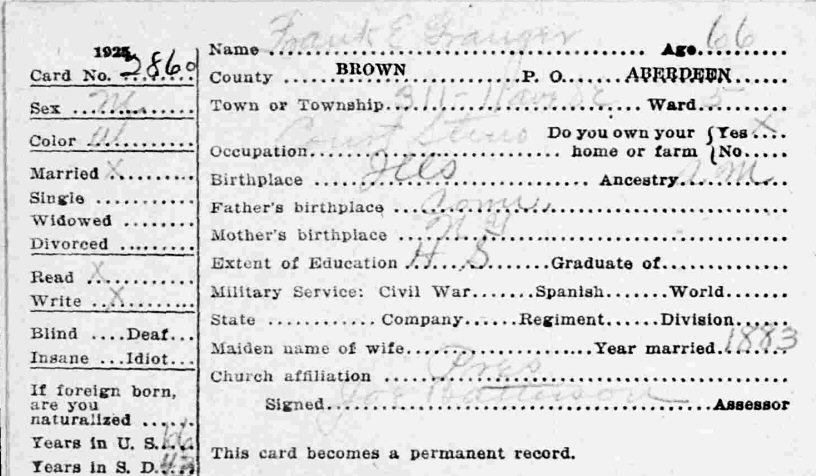 Frank E. Granger, of Aberdeen, the oldest court reporter in South Dakota, in point of continuous service in that capacity, was born in Chicago, Illinois, and there acquired his early education, afterward reading law and winning admission to the bar of Illinois. in 1883 he located in Aberdeen, South Dakota, where he proved up on some government land. Five years later he was made court reporter and for more than a quarter of a century has held that position, discharging his duties in a capable, prompt and able manner.
Mr. Granger is also well known in Aberdeen as the founder of the Granger Business School, which he established in 1900 as a school of stenography. Later he installed a complete business course, buying out the Aberdeen Commercial College. In 1906 he established a branch at Big Stone City, South Dakota, later moving this to Ortonville, Minnesota, and selling it in 1913 to C. J. Stark. In 1908 Mr. Granger established another branch school, buying the Watertown Business School, which he sold two years later. In 1913 he sold the Aberdeen school to George L. Kemper, its present owner, who has placed M. B. Dewey in charge.
In November, 1883, Mr. Granger was united in marriage to Miss Fannie Roe, of Chicago, and they have become the parents of three children. Mr. Granger is connected fraternally with the Masonic lodge and he gives his political allegiance to the republican party. In 1893 he served as a member of the school board and did capable and intelligent work in that office. He has lived in Aberdeen for many years and is held in high regard there as a progressive and useful citizen.
(Page 1155; "History of Dakota Territory Vol 4" by George W. Kingsbury; 1915)