Notes for BLANDINA WYLD:

Daughter of James and Blandina (Hasbrouck) Wyld.
Born: June 3, 1888 in Unknown.
Died: April 19, 1889 in Ardgay, Cornwall on the Hudson, Orange County, New York.
Buried: Saint Georges Cemetery, Newburgh, Orange County, New York.
Cause of Death: Meningitis.
Obituary:
NY Times April 23rd, 1889
Wyld - At Argay, Cornwall-on-Hudson, NY on Friday 19th April, of meningitis, BLANDINA, youngest child of James and Blandina Wyld, aged 15 months.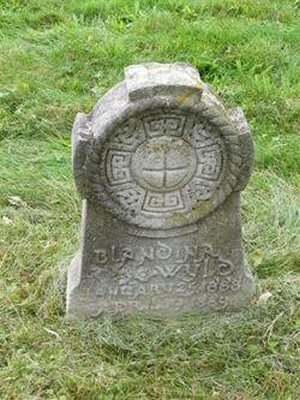 (Source: findagrave.com/Chris Asmann)