Notes for OLIVE PEARL HUFF READY:

Daughter of Ora Elias and Bertha (Groves) Huff.
Born: October 1, 1904 in Mt. Moriah, Harrison County, Missouri.
Died: November 4, 1981 in Stromsburg, Polk County, Nebraska.
Buried: Plot: East Side Block; Stromsburg Cemetery, Stromsburg, Polk County, Nebraska.
Census: 1930 - Benkelman, Dundy County, Nebraska.
Married: Ira Wier Ready January 14, 1922 in Norton, Norton County, Kansas.
From Don Jackson, grandson: "Grandma Ready was probably the most influential person in my life. Above all people, I new Grandma not only really loved me but liked me as well. We were buddies. She was a very caring person but very strong willed with a certain sense of right and wrong. She need to right every in justice that occurred. I have acquired this from her. She never let anyone intimidate her and was determined to finish any task she started. Grandma usually belong to about every club and society around and usually was organizing or running it at one time or another. It is interesting that I married a lady with this same trait! As I grew to young adulthood I was treated more like a son than a grandson and was involved in family decisions on equal with my Uncles. Grandma Ready was a strong, sensitive take charge type of women, well ahead of her time!"
1930 Census
Name: Olive Ready
Event: Census
Event Date: 1930
Event Place: Benkelman, Dundy, Nebraska
Gender: Female
Age: 24
Marital Status: Married
Race: White
Birthplace: Iowa
Estimated Birth Year: 1906
Immigration Year:
Relationship to Head of Household: Wife
Father's Birthplace: Missouri
Mother's Birthplace: Iowa
Enumeration District Number: 0002
Family Number: 55
Sheet Number and Letter: 3B
Line Number: 57
NARA Publication: T626, roll 1280
Film Number: 2341015
Digital Folder Number: 4610712
Image Number: 00017
Household Gender Age
Spouse Ira W Ready M 30
Olive Ready F 24
Child Junior Ready M 7
Child Duaine Ready M 4
Child Ilene Ready F 3
Child Eugene Ready M 0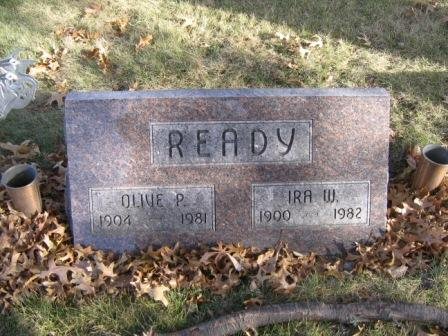 (Source: finadagrave.com/Beth Sparrow)