Notes for FRANK WILLIAM DAY:

Son of Barney Hulse and Georgia Belle (Dewey) Day.
Born: June 10, 1902 in Hot Sulphur Springs, Grand County, Colorado.
Died: September 11, 1964 in College Station, College Station, Texas.
Buried: Plot: Garden of Devotion, Tier 23, Grave A; Grand View Memorial Park, Glendale, Los Angeles County, California.
Census:
1910 - Grand Lake, Grand County, Colorado.
1920 - ?, Boulder County, Colorado.
1930 - Lincoln, Placer County, California.
Married: Alice Jane Ready December 21, 1923 in Denver, Denver County, Colorado.
1910 Census
Name: Frank W Day
Birthplace: Colorado
Relationship to Head of Household: Son
Residence: Grand Lake, Grand, Colorado
Marital Status: Single
Race : White
Gender: Male
Immigration Year:
Father's Birthplace: Colorado
Mother's Birthplace: Illinois
Family Number: 256
Page Number: 16
Household Gender Age
Parent Barney H Day M 33y
Parent George D Day F 36y
Barney D Day M 10y
Frank W Day M 7y
Marion P Day F 5y
1920 Census
Name: Frank Day
Residence: , Boulder, Colorado
Estimated Birth Year: 1903
Age: 17
Birthplace: Colorado
Relationship to Head of Household: Son
Gender: Male
Race: White
Marital Status: Single
Father's Birthplace:
Mother's Birthplace:
Film Number: 1820156
Digital Folder Number: 4294426
Image Number: 00437
Sheet Number: 9
Household Gender Age
Parent Barney H Day M 43y
Parent Georgia Day F 46y
Frank Day M 17y
Pella Day F 15y
Eloise Day F 9y
1930 Census
Name: Frank W Day
Event: Census
Event Date: 1930
Event Place: Lincoln, Placer, California
Gender: Male
Age: 27
Marital Status: Married
Race: White
Birthplace: Colorado
Estimated Birth Year: 1903
Immigration Year:
Relationship to Head of Household: Head
Father's Birthplace: Colorado
Mother's Birthplace: Illinois
Enumeration District Number: 0020
Family Number: 149
Sheet Number and Letter: 7A
Line Number: 22
NARA Publication: T626, roll 182
Film Number: 2339917
Digital Folder Number: 4531838
Image Number: 01075
Household Gender Age
Frank W Day M 27
Spouse Alice J Day F 28
Child Frank Day M 5
Child Marilyn L Day F 0
Clara B Ready F 52
Lila M Ready F 26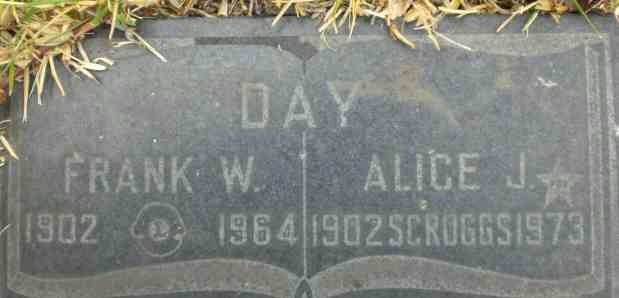 (Source: finadagrave.com/"Old History Buff")