Notes for WENDELL OLIVER "WINKIE" WHIPPLE:

Son of Orson Temple and Grace (Randall) Whipple.
Born: February 9, 1933 in Show Low, Navajo County, Arizona.
Died: February 13, 2006 in Show Low, Navajo County, Arizona.
Buried: Feburary 18, 2006 - Show Low Cemetery, Show Low, Navajo County, Arizona.
Married: Ione "Babe" Pearce July 12, 1952 in Unknown.
Obituary
Wendell Oliver Whipple, 73, died Monday evening, Feb. 13, 2006 at his home in Show Low.
He was born Feb. 9, 1933 in Show Low and had lived here his entire life. Winkie served on the Show Low City Council from 1962-1974, which included a term as Mayor. He worked for Dora Brothers Distributing Company, as a Blade Operator with Navajo County for 18 years, City of Show Low Public Works Department from 1976 retiring in 1989 and White Mountain Lakes Road District over six years until he was unable to work any longer due to his illness with cancer.
Winkie's greatest love, besides working, was being in the saddle since age three. He had worked cattle all of his life and he enjoyed helping cattlemen from the Fort Apache Reservation Ranch to the Holbrook, Winslow areas assisting in their need to watch over their cattle, forest service permits and operations. He was a true cattleman and knew how to work cattle. Winkie always enjoyed being with his family, watching them participate in sports and taking them into the hills for a cookout. He loved Dutch oven cooking and was famous for his Dutch oven biscuits and gravy. He was a life long member of The Church of Jesus Christ of Latter-day Saints and served in various capacities and he always supported his wife and children in their church callings.
Winkie is survived by his wife of 53 years, Ione "Babe" Whipple of Show Low; children, Terry (Raija) Whipple of Lakeside, Gerry (Marcia) Whipple of Show Low, Dale Oliver Whipple of Lonsdale, Minn., Leisa (Alan) DeWitt of Taylor, Jerald (Terri) Whipple of Show Low, Marion (Mischel) Whipple of Mesa, LuDene (Melody) Whipple of Heber, Amy (Jared) Peterson of Snowflake and Sara (Clay) Hansen of Joseph City; 52 grandchildren and 10 great grandchildren; brothers and sisters, Sybil Allen of Taylor, Marva Hoffman of Buckeye, Fred Whipple of Tempe, Patsy Teddar of Buckeye, Norris "Sam" Whipple of Taylor, and Pete Whipple of Mesa.
He was preceded in death by his parents, Orson and Grace Whipple, three brothers and two grandchildren.
Funeral services will be held at 11 a.m. Saturday, Feb. 18 at the Show Low Stake Center of The Church of Jesus Christ of Latter-day Saints. Visitation will be Friday evening from 6-8 p.m. at Owens Mortuary in Show Low and one hour prior to services at the church. Interment will be in the Show Low Cemetery.
For those who have special memories and would like to send private condolences or sign an online guest book, visit www.owensmortuary.com.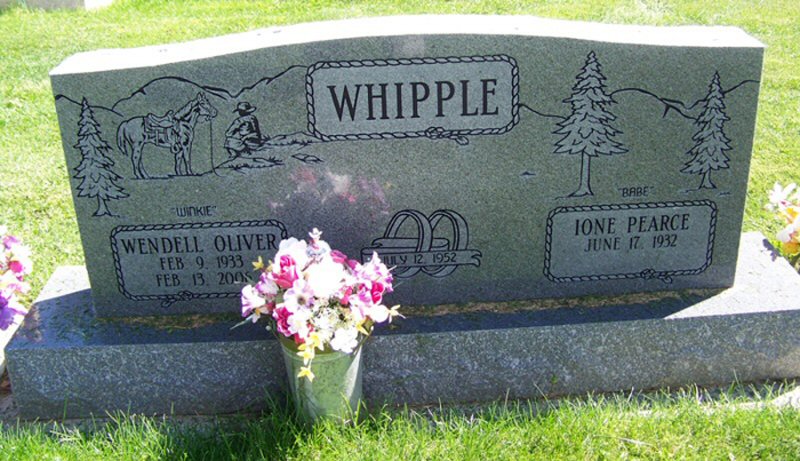 (Source: findagrave.com/Tom Todd/Kenneth D. Bogard)