Notes for SMITH L PEACOCK:

Son of ? and ?.
Born: Unknown in Unknown.
Died: August 3, 1864 in Points of Rock, Virginia.
Buried: Plot 3572; City Point National Cemetery, Hopewell, Hopewell County, Viriginia. (From Federal Dead Buried From Libby, Belle Isle, Danville & Camp Lawton Prisons City Point, and in the Meld before Petersburg and Michinond.)
PUBLISHED BY THE U. S. CHRISTIAN COMMISSION. FEOM REPORTS OF ITS AGENTS.
Military Service: Enlistment Date: 27 Aug 1862
Enlistment Place: Hanover, New York
Side Served: Union
State Served: New York
Service Record: Enlisted as a Private on 27 August 1862 at the age of 36.
Enlisted in Company K, 112th Infantry Regiment New York on 30 Aug 1862.
Promoted to Full Corporal on 20 Jun 1864.
Died of disease Company K, 112th Infantry Regiment New York on 3 Aug 1864.
Married: (1) Caroline Knapp (b. 1826. d. February 11, 1860) Unknown in Unknown.
(2) Esther Maria Randall April 10, 1861 in Nashvile, Chautauqua County, New York.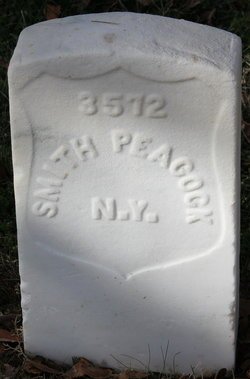 (Source: findagrave.com/?)