Notes for ROSABELL BRONSON RANDALL:

Daughter of Wilmer Wharton and Elizabeth (Fisher) Bronson.
Born: May 19, 1878 in Huntsville, Weber County, Utah.
Died: February 4, 1943 in Los Angeles, Los Angeles County, California.
Buried: Rose Hill Cemetery, Idaho, Bonneville County, Idaho.
Married: Franklin Arthur Randall May 13, 1895 in Unknown.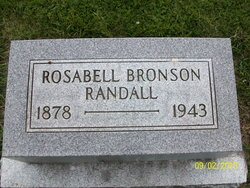 (Source: findagrave.com/Theresa)