Notes for RODGER RANDALL FULLER, SR:

Son of Lincoln Randall and Edith Augnes (Rodgers) Fuller.
Born: November 12, 1924 in Chandler, Maricopa County, Arizona.
Died: October 11, 2008 in Mesa, Maricopa County, Arizona.
Buried: Valley of the Sun Mortuary and Cemetery, Chandler, Maricopa County, Arizona.
Married: Zelma May ? 1973 in Unknown.
OBITUARY: East Valley Tribune 10/15/2008
Note: Rodger Fuller passed away on October 11, 2008 surrounded by his loving family. Rodger was born November 12, 1924 to Lincoln and Edith (Rodgers) Fuller in Chandler, Arizona.
Dr. Fuller was a lifelong resident of Chandler, leaving home only to serve in the United States Marine Corps during WWII and to attend Palmer Chiropractic College in Iowa. He began his Chiropractic practice in 1950 and continued to care for patients until early 2008. In 1987 he received the Chandler Longest Professional Business Award and in 2006 was the recipient of the Chandler Pioneer of the Year Award. Rodger enjoyed spending his free time in Rocky Point, Mexico and Heber, Arizona.
He is survived by his loving wife of 35 years, Zelma; children, Janet (Mark) Terwilliger, Melinda (Robert) Martinez, Rodger Randall (Angela) Fuller, Jr.; step-son, Michael (Heidi) Truitt; grandchildren, Leesa (Jason) Kirkland, Meagan (Derek) Fox, Matthew Pace, Travis and Courtney Fuller, Christopher (Jeanne) Truitt; and great-granddaughter, Jenna Kirkland.
A visitation will be held 6-8 PM on Thursday, October 16 at Bueler Mortuary, 14 W. Hulet Dr. Chandler. Funeral services will be held at 11:00 AM on Friday, October 17 at the Pleasant Ward Building of the LDS Church, 800 W. Chandler Heights Road, Chandler, 85248. In lieu of flowers, donations may be made to the American Lung Association, 102 W. McDowell Road, Phoenix, AZ 85003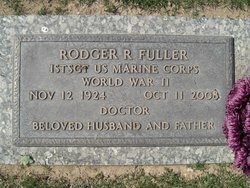 (Source: findagrave.com/Cindi Fernandez)