Notes for LOIS M CONGDON KELLEY:

Daughter of Lester and Mary Elizabeth (Sheffield) Congdon.
Born: July 2, 1857 in Le Roy, Mower County, Minnesota.
Died: September 9, 1942 in Forest City, Winnebago County, Iowa.
Buried: Madison Township Cemetery, Forest City, Hancock County, Iowa.
Married: Charles H Kelley December 25, 1877 in Bremer County, Iowa.
Obituary
Lois Congdon, daughter of Mr. and Mrs. Lester Congdon, was born in LeRoy, Minnesota, July 2, 1857, and died Wednesday, September 9, 1942, at the home of her son-in-law, W. J. Taylor, at the age of 85 years, 2 months and 7 days.
She moved to Bremer County, Iowa, when she was ten years of age where she later taught school for several years. At a teachers' institute there in 1874 she met Charles H. Kelley whom she married December 25, 1877. To this union were born three children: Ruth E. (Mrs. W.J. Taylor, who died in 1916), Edward L. and Phillip H. They also adopted two children, Harold E. and Ethel Kelley.
Mr. and Mrs. Kelley began farming near Waverly, Iowa, and remained there until 1900 when they moved to a farm three miles south of Forest City. In 1916 they moved to Backus, Minnesota, where they farmed for several years. In 1931 they went to Saginaw, Michigan, where they made their home with their son Edward. Since 1934 Mrs. Kelley had made her home with W.J. Taylor. She was a member of the First Methodist church and was an active worker in Sunday School and aid as long as circumstances permitted.
In 1937 she was afflicted with paralysis and was bedfast until her death. In spite of her condition she remained patient and took a great deal of interest in her friends and relatives.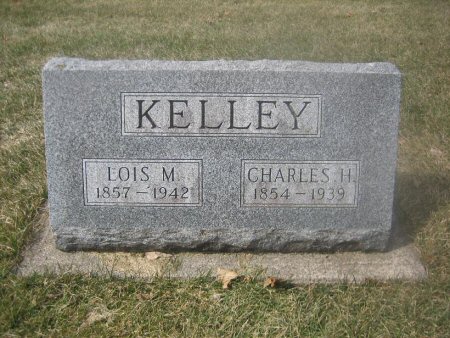 (Source: findagrave.com/Sandy)