Notes for LESTER GRANT BRINKERHOFF:

Son of ? and ?.
Born: September 8, 1918 in Unknown.
Died: July 25, 2005 in Unknown.
Buried: Joseph City Cemetery, Joseph City, Navajo County, Arizona.
Married: Nelda Randall February 13, 1960 in Unknown.
Obituary
The White Mountain Independent,
Show Low, Arizona ~ 07/29/2005
Lester Grant Brinkerhoff, 86, died July 25, 2005 at the RTA Hospice and Palliative Care Center in Lakeside.
Grant was born in Woodruff, the seventh of nine children of James and Sarah Eagar Brinkerhoff, an early pioneer family. He attended Elementary School in Woodruff. Grant started high school in Holbrook and then moved to Tucson and graduated from Tucson High School. He played the trumpet in the high school band. After high school he came back to Holbrook and worked at Heward Motor Co. for a time then moved to Salt Lake City and worked at a service station for a year.
Grant then returned to Northeastern Arizona and ran a restaurant at Lupton to serve the workers during the construction of Highway 66. He married Madge Smithson in 1940 and they had three children while they were in Woodruff and Holbrook. He worked for R.P. Bradley's Union Co. for a while before he enlisted in the U.S. Navy during World War II. He served in the South Pacific on the Battleship U.S.S. West Virginia for almost four years.
After the war Grant returned to Holbrook to work for Bradley Oil again. In 1953 he opened Brink's Boot Shop which he operated until he retired in 1980. He and Madge divorced in 1958 and in 1960 he married Nelda Randall. Grant was one of the founders of the Navajo County Hashknife Sheriff's Posse and was a life member. He was also one of the founding members of the Pony Express, delivering mail from Holbrook to Scottsdale; he rode with them for over 30 years. He was a lifetime member of the Holbrook Elks Lodge No. 2450. Grant also was a lifetime member of the Arizona Trapper's Association.
After retiring from his business he loved tending his trap line for several years. He had a lifelong love for the outdoors and taught his children the same. Grant was a life long member of The Church of Jesus Christ of Latter-day Saints, but became active in the church in 1988. He served as a secretary and as an assistant in the High Priest Group in his ward.
Grant is survived by his wife, Nelda of Holbrook; son, Terry Grant Brinkerhoff of Phoenix; daughters, Gayle Allen of Phoenix, Meri Lynn Anderson of Avondale, Carolyn Sellers of Avondale; seven grandchildren, four great-grandchildren, 53 nieces and nephews; sisters, Jayne Brimhall of Grass Valley, CA and Alta Lilly White of Salt Lake City, Utah.
Funeral services will be held at 10 a.m. Saturday, July 30,at the Holbrook Stake Center of The Church of Jesus Christ of Latter-day Saints. A visitation will be held from 6-8 p.m. Friday, July 29 at Owens Mortuary in Holbrook, and one hour prior to services at the Church. Interment will be in the Joseph City Cemetery.
In lieu of flowers the family recommends donations be made in his name to the RTA Hospice and Palliative Care Center 1789 W. Commerce Dr., Lakeside, AZ 85929.
For those who have special memories or would like to send private condolences or to sign the online guest book, visit website: www.owensmortuary.com.
Owens Mortuary of Holbrook handled the arrangements.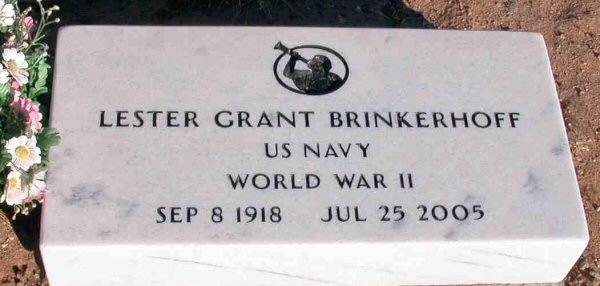 (Source: findagrave.com/John C. Irish/Monica Reed)