Notes for LESTER CONGDON:

Son of Elias and Rosamund (Caswell) Congdon.
Born: October 4, 1827 in Binghampton, Broome County, New York.
Died: April 11, 1923 in Pine River Township, Cass County, Minnesota.
Buried: Wilson Grove Cemetery, Sumner, Bremer County, Iowa.
Married: Mary Elizabeth Sheffield June 14, 1854 in Belvedere, Boone County, Illinois.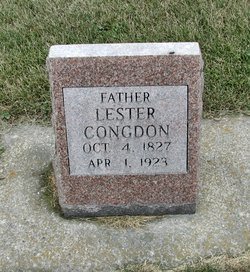 (Source: findagrave.com/Louis)