Notes for JOHN EDWARD BROWN:

Son of Edward Fitzgerald and Viola (Randall) Brown.
Born: March 20, 1924 in Ogden, Weber County, Utah.
Died: February 4, 2008 in Ogden, Weber County, Utah.
Buried: Ogden City Cemetery, Ogden, Weber County, Utah.
Married: Jean Crockett April 5, 1944 in Battle Creek, Calhoun County, Michigan.
Obituary John Edward Brown
1924 ~ 2008
TOGETHER FOREVER
OGDEN- John Edward Brown, 83, passed away on Monday, Feb. 4, 2008, in Ogden, Utah.
He was born on March 20, 1924 in Ogden, Utah, to Edward Fitzgerald and Viola Ida Randall Brown.
John grew up in Ogden, attending St. Joseph Catholic School and graduating from Ogden High School. He played the clarinet and the drums in the band. After high school, he served his country in the U.S. Army as a sergeant during World War II in Europe.
On April 5, 1944 he married his sweetheart, Jean Crockett, in Battle Creek, Michigan. Their marriage was later solemnized in the Logan Temple. They were the parents of three daughters. Jean passed away on January 21, 2001.
John grew up working in the family business, Brown's Ice Cream, until the business was sold. He then worked with his step-father at Keith's Sports Store. Later he worked at Hill Air Force Base until he retired.
John was always busy. There wasn't a thing he couldn't do, fix or build. He was a master of everything from tying flies to building a family room, repairing guns to gardening. Until this last year, he has been able to keep a beautiful yard. He had a quick sense of humor and could talk a hundred miles an hour. You would have to listen carefully to catch what he said.
John was a charter member of the BPO Elks Lodge 719 and served as President of the Five Points Lions and as a Lieutenant Governor of the Utah Lions Club.
John was an active member of the Taylor Canyon (Ogden 33rd) Ward. He served faithfully in every calling. He loved being a scoutmaster. He served many years as a ward clerk to more than five bishops. He also served as a counselor in the Bishopric. For more than 10 years, John and Jean served as temple workers in the Ogden Temple. He always had a strong testimony of the gospel. He was a wonderful home teacher.
John is survived by three daughters: Martsie (DeVerl) Spencer, Roy; Mary Ann (Vern) Holmes, Farr West; Barbara (Carl) Lindeman, Saratoga Springs. He is also survived by 11 grandchildren: Shannon (Lex) Olson, Kurt (Julie) Spencer, Trisha (Aaron) McPhie, Chad (Theresa) Spencer, Nathan Holmes, Tyler Holmes, Chase Holmes, Bret Lindeman, Jordan Lindeman, Alison (John) Harding, Nicholas Lindeman; 15 great-grand-children; and a step-brother Brian Wangsgard, Salt Lake.
He was preceded in death by his wife; a grandson Zachary Holmes; his mother and father; a baby sister Beverly June; his step-father Keith Wangsgard and a step-sister Judy Dolstad.
Funeral services will be held Thurs. February 7, 2008 at 11 a.m. at Myers Mortuary, 845 Washington Blvd. in Ogden. Friends may call on Wed. from 6 to 8 p.m. and also Thurs. from 9:30 to 10:30 a.m. Interment, Ogden City Cemetery.
The family would like to thank all those who assisted John. We are very grateful for your love, care, kindness and concern.
Condolences may be sent to the family at www.myers-mortuary.com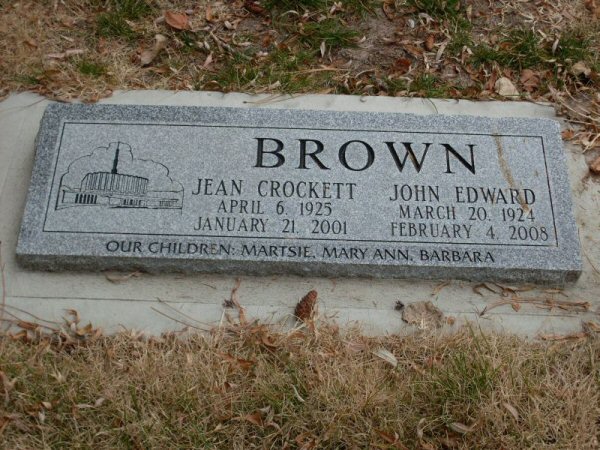 (Source: findagrave.com/"CajunLadyUT"/Ryan Curtis)