Notes for FRANCIS RANDALL APPLETON, SR.:

Son of Daniel Fuller and Julia (Randall) Appleton.
Born: August 5, 1854 in Lenox, Berkshire County, Massachusetts.
Died: 1 2 1929 in Unknown.
Buried: Old South Cemetery, Ipswich, Essex County, Massachusetts.
Married: Fanny Lanier October 7, 1884 in Lenox, Berkshire County, Massachusetts.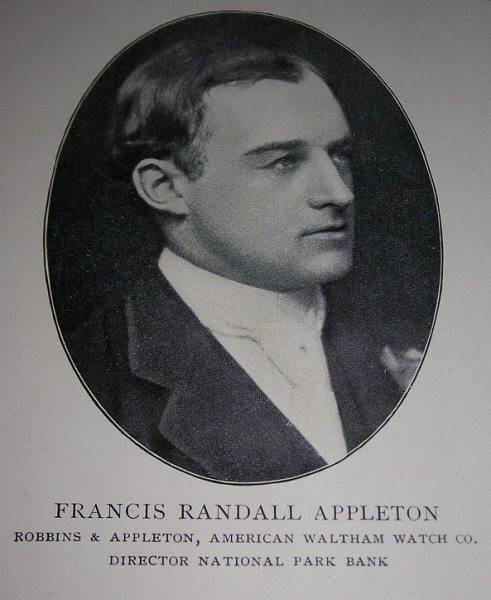 "NOTABLE NEW YORKERS" - Circa 1896-1899
Personal Collection
(Source: findagrave.com/Diane D/dsking)



Francis Randall, son of Daniel Fuller Appleton, was born in New York, August 5, 1843. He attended private schools, and ws fitted for college in PHillips Academy, Andover, Massachusetts. He was graduated from Harvard College, in the class of 1875, and from the Columbia Law school, in 1877, and was admitted to the bar in New York in 1877. He practiced his profession in New York City for several years. From 1884 to 1910, when he retired, he was a member of the firm of Robbins & Appleton, agents for the Waltham Watch Company. His winter home is in New York. His summer home is on the old homestead at Ipswich, of which he is the present owner. He is a member of the Society of Colonial Wars, and was an overseer of Harvard College during 1903-1909. In politics he is a Republican; in religion, an Episcopalian.

He married at Lenox, Massachusetts, October 7, 1884, Fanny Lanier, born at Lenox, August 17, 1864, daughter of Charles Lanier, of New York, and of his wife Sarah Egleston, a great-granddaughter of Major-General Paterson of General Washington's staff in the revolutionary war. Children: Frances Randall Jr., born in Lenox, July 9, 1885, graduate of Harvard College in 1907; Charles Lanier, born in New York, September 25, 1996; graduate of Harvard College, 1908; Ruth, born in New York, January 10, 1891; Alice, born in New York, December 8, 1894; James, born in New York, March 6, 1899.