Notes for ESTHER RANDALL PALMER:

Daughter of Peleg and Hannah (?) Randall.
Born: 1796 in Unknown.
Died: June 15, 1849 in Unknown.
Buried: Chaffee Cemetery, Alene, Madison County, New York.
Married: Joshua Grant Palmer April 7, 1816 in Lenox, Madison County, New York.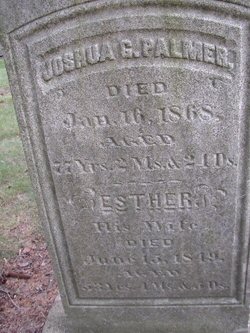 (Source: findagrave.com/Deb Hayes-Wolfe)
NOTE: Gravestone with Joshua is a memory stone as they are buried in different cemeteries.