Notes for EMMERETTE LOUISE DAVIS RANDALL:

Daughter of ? and ?.
Born: May 18, 1818 in Livona, Livingston County, New York.
Died: March 12, 1898 Ogden, Weber County, Utah.
Buried: March, 1898 in Ogden, Weber County, Utah.
Census: 1850 - Grat Salt Lake COunty, Territory of Utah.
1880 - 3rd Ward, Ogden, Weber County, Utah.
Married: Alfred Jason Randall January 8, 1834 in Unknown.
Alfred and his parents and their children moved to Kirtland, Ohio, when he was nine years old. He remembered helping to clear the land for the Kirtland Temple. He moved to Munson, Ohio, when he was 23, and there he married his first wife.
He was baptized in 1840 by Orson Hyde. Following this change in his life, he moved his family to Nauvoo where he was actively involved in the building of the Nauvoo Temple. He was a member of the City Council. He was one of those who accom­panied the Prophet and his brother to Carthage and was the last to leave the jail, according to records.
His second wife worked as a servant in his home in Nauvoo and accompanied the family to Winter Quarters. He was ordained a bishop and assigned to look after the families of the Mormon Battalion members. He broke his leg and was unable to go west. In January of 1848, he took Margaret as his polygamous wife.
The family arrived in Salt Lake and he followed his trade as a wheelwright and carpenter and built many of the homes, saw mills and other buildings. At the request of the church authorities, Alfred made four trips east to help the saints come to the valley.
He married his other three wives over the next 18 years. His wives did not all live with him: Emmeretta lived in Ogden, Margaret and her family moved to Centerville, Mildred remained in Salt Lake and taught school there, and Elsie did janitorial work in an Ogden bank. Alfred lived primarily with Hannah in North Ogden. In 1865 he was called on a mission to the White Mountains and the Indians, and he baptized 10 of them. He served as a counselor in the bishopric for a time and then was called on another mission to the Sandwich Islands. His mission was to purchase the land known as the Laie Plantation and set up a permanent mission. He was recalled in 1867 to build the Ogden Woolen Mills. He spent his last years in Ogden where he raised his youngest family, planted a fine fruit orchard and took care of his farm.
(Source: Rootsweb.com - Conquerors of the West)
1850 Census

1850 Census
Name: Emmerrette Randall
Residence: Great Salt Lake County, Great Salt Lake, Utah Territory
Age: 33 years
Calculated Birth Year: 1817
Birthplace: New York
Gender: Female
Race (original):
Race (expanded):
Death Month:
Death Year:
Film Number: 25540
Digital GS Number: 4181033
Image Number: 00068
Line Number:
Dwelling House Number: 120
Family Number: 120
Marital Status:
Free or Slave:
Household Gender Age
Alfred Randall M 38
Emmerrette Randall F 33
Charles F Randall M 16
Sarah Randall F 13
Alfred Randall M 6
Levi Randall M 4
Margaret Randall F 2
Orrin H Randall M 1
1880 Census
Name: Emerett Randall
Residence: Ogden, Weber, Utah
Birthdate: 1818
Birthplace: New York, United States
Relationship to Head: Mother
Spouse's Name:
Spouse's Birthplace:
Father's Name:
Father's Birthplace: New York, United States
Mother's Name:
Mother's Birthplace: New York, United States
Race or Color (Expanded): White
Ethnicity (Standardized): American
Gender: Female
Martial Status: Widowed
Age (Expanded): 62 years
Occupation: Boarding
NARA Film Number: T9-1339
Page: 449
Page Character: B
Entry Number: 4408
Film number: 1255339
Household Gender Age
Child Levi L. Randall M 30
Emma B. Randall F 20
Norman L. Randall M 3M
Emerett Randall F 62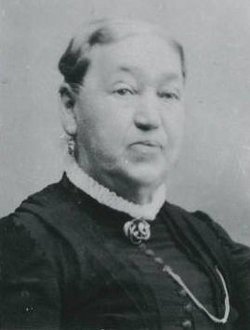 (Source: findagrave.com/K Oswald)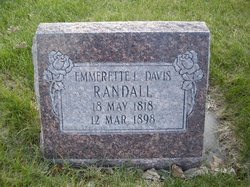 (Source: findagrave.com/Jason O'Driscoll)