Notes for ELDON HAKES RANDALL:

Son of Frank Campkin and Lucinda Helen (Leavitt) Randall.
Born: 1920 in Pine, Gila County, Arizona.
Died: April 20, 2011 in Pine, Gila County, Arizona.
Buried: Pine Cemetery, Pine, Gila County, Arizona.
Census: 1920 - ?, Gila County, Arizona.
Married: (1) Dorothy Delora Carlisle before 1935 in Unknown.
(2) Virginia Cooley December 31, 1945 in Unknown.





1920 Census
name: Eldon H Randall
residence: , Gila, Arizona
estimated birth year: 1920
age: 0
birthplace: Arizona
relationship to head of household: Son
gender: Male
race: White
marital status: Single
father's birthplace:
mother's birthplace:
film number: 1820047
digital folder number: 4294343
image number: 01086
sheet number: 6
Household Gender Age
parent Frank C Randall M 40y
parent Lucinda H Randall F 36y
Mabel L Randall F 17y
Ruth P Randall F 16y
Ann E Randall F 14y
Frank J Randall M 12y
Erma Randall F 10y
Dorthella Randall F 8y1m
Orley S Randall M 6y9m
Hellen F Randall F 4y2m
Eldon H Randall M 6m





Obituary
Eldon Hakes Randall passed away peacefully April 20, 2011. Eldon was born June 23, 1919 in Pine, Arizona to Arizona pioneers Frank Campkin Randall and Lucinda Helen Leavitt Randall. Eldon grew up in a loving family of 12, five boys and seven girls. He attended Brigham Young University in the late 1930's before going into the Navy during World War II. He served as a pharmacist's mate first class, not only in the Navy on the Pacific Ocean Islands, but also on loan to the Marines and the Seabees. Upon discharge, he attended Northern Arizona University/Flagstaff where he played conference football, basketball and competitive boxing. Eldon graduated from Northern Arizona University in education, became a high school athletic coach and then a school district superintendent in Thatcher and Fort Thomas, Arizona.

In 1985 he retired to Tucson to be closer to his children in the area. Eldon was a testimony-bearing member of The Church of Jesus Christ of Latter-Day Saints, serving in many capacities including that of ward Bishop. Eldon dearly loved his near and extended family, his fellow men, his country and the world. He was the recipient of many school service honors including the Fort Thomas football stadium being named after him. He traveled in Antarctica, South America, South Pacific, Hawaii, Europe, Mexico and the United States. Wherever he went he was so well liked that people crowded up around him to shake his hand, give him a hug and exchange a few words. He was a true gentleman and a gentle man.

Eldon's wife, Virginia Cooley Randall, passed away June 11, 2001. Eldon is survived by two sisters, Faye Stratton (95) and Erma Blackburn (101); his son, Wayne Randall; daughters, Joyce (Durell) Barney, Dixie (Glen) Kartchner and Debbie (Steven) Sharp; 15 grandchildren, 40 great-grandchildren and 18 great-great-grandchildren.

Visitation and viewings will be at BRING'S BROADWAY CHAPEL, 6910 E. Broadway in Tucson from 6:00 p.m. - 8:00 p.m., Thursday, April 28, 2011 and at the LDS Church, 700 N. Bonanza Ave., at 1:00 p.m., Friday, April 29, 2011 prior to Funeral Services to be held at 2:00 p.m. Graveside Services will be at the Pine Cemetery in Pine, Arizona at 12:00 noon, Saturday, April 30, 2011. In lieu of flowers, Eldon's family suggests donations to the American Heart Association or the LDS Perpetual Education Fund.





(Source: findagrave.com/John C Irish/Chad Kendell)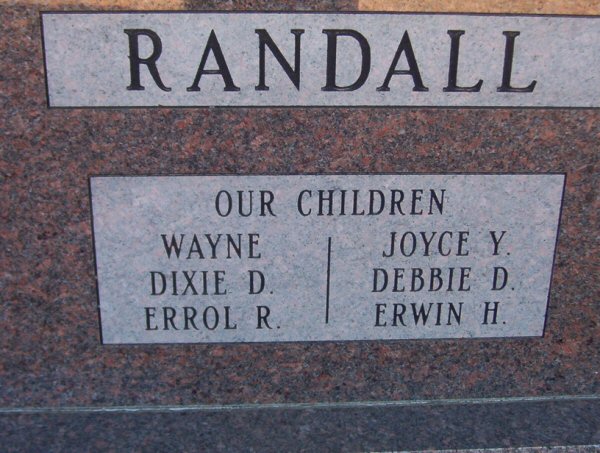 (Source: findagrave.com/John C Irish/Chad Kendell)