Notes for DANIEL FULLER APPLETON:

Son of General James and Sarah (Fuller) Appleton.
Born: January 31, 1826 in Marblehead, Essex County, Massachusetts.
Died: February 2 1904 in New York.
Buried: Old South Cemetery, Ipswich, Essex County, Massachusetts.
Married: (1) Julia Randall June 9, 1853 in Unknown.
(2) Susan Cowles December 17, 1889 in Unknown. (b. April 24, 1847. d. January 17, 1923. Buried Old South Cemetery, Ipswich, Essex County, Massachusetts)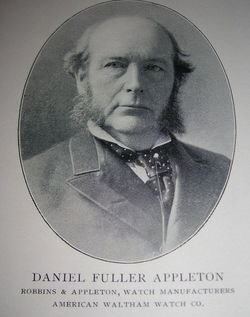 Daniel Fuller, son of General James Appleton, was born at Marblehead, January 31, 1826. He was educated in the public schools in Portland. In 1846 he came to New York City, and entered the emply of Royal Robbins, who afterward admitted him to partnership under the firm name of Robbins & Appleton. In 1857 this firm became the owners of the new and small watch fatory at Waltham, and this was the beginning of the American Witham Watch Company. Mr. Appleton retained his interest in the business until his death, and his sons have succeeded him in the company. He was a delegate to the first natilonal convention of the Republican party when General John C. Fremont was nominated for president, and he was one of those invited to sit on the platform at the convention when President McKinley was nominated for the second time. While his business interests were in New York City, he spent his vacations in Ipswich at the old homestead to the ownership of which he succeeded after his father's death. He died February 4, 1905. He married (first) June 9, 1853, Julia, daughter of Nicholas P. Randall, of Manlius, New York. She died August 20, 1886, aged sixty years. He married (second) December 17, 1889, Susan Cowles, daughter of Professor John P. Cowles, of Ipswich.
Children of first wife: I. Francis Randall, mentioned below.
2. Ruth, born May 30, 1857, married, April 15, 1880, Charles Sanders Tuckerman, A.B., Harvard, 1874, who died August 27, 1904; children: Muriel, born in Brookline, March 6, 1881; John Appleton, in Boston, November 26, 1884; Julia Appleton, in Ipswich, May 17, 1888; Leverett Saltonstall, in Salem, December 3, 1892.
3. Mary Elizabeth, born April 21, 1860; married November 22, 1881, Gerald Livingston Hoyt, of Staatsburg, New York, A.B., Yale, 1872; children: Julia Marion, born in New York, March 3, 1883; Lydig, in New York, December 21, 1883.
4. Randolph Morgan, January 4, 1862, A.B., Harvard, 1884; married, June 2, 1888, Helen Kortwight Mixter; children: Madeline, born in Ipswich, July 8, 1891; Julia, in Ipswich, June 5, 1894; Sybil, in Boston, December 28, 1899.
5. James Waldingfield, June 4, 1867, graduate of Harvard, 1888.
(Source: New England Families Genealogical and Memorial compiled under the editorial supervision of William Richard Cutter, A.M. vol 1 1914.)