Notes for CHARLES HENRY KELLEY:

Son of Henry L B and Phoebe (Nott) Kelley.
Born: December 8, 1854 in Concord, Merrimack County, New Hampshire.
Died: November 13, 1939 in Forest City, Winnebago County, Iowa.
Buried: Madison Township Cemetery, Forest City, Hancock County, Iowa.
Married: Lois M Congdon December 25, 1877 in Bremer County, Iowa.
Obituary
Charles H. Kelley, son of Henry L.B. and Phoebe Nott-Kelley, was born December 8, 1854, in the vicinity of Concord, New Hampshire, and died Monday, November 13, 1939, at the home of his son-in-law, Will J. Taylor, northwest of Forest City at the age of 84 years, 11 months, and 5 days. His father was a native of New Hampshire and his mother of Vermont. When Charles was 12 years of age, the Kelley family moved to Iowa and settled in Bremer county. Here the boy grew to manhood and became a teacher in the public schools of the county. At a county institute held in Waverly in August 1874, Mr. Kelley met another Bremer county school teacher, Miss Lois Congdon, to whom he was married on Christmas day in 1877. Mr. and Mrs. Kelley observed their sixtieth wedding anniversary two years ago on December 25. To this union three children were born: Ruth E. (Mrs. Will J. Taylor, who died July 26, 1916); Edward L.; and Phillip H. Kelley. Mr. and Mrs. Kelley also took into their home two orphaned children, whom they adopted: Harold E. and Ethel Kelley.
Mr. and Mrs. Kelley began housekeeping on a farm, which he had bought before their marriage, located 8 miles northeast of Waverly. Here they remained with their family until the year 1900 when they moved to a farm three miles south of Forest City. This continued to be their home until sixteen years later when they moved to Backus, Minnesota. In 1929 they left Minnesota and went west, spending some time in Oregon and Washington. For a number of years Mr. and Mrs. Kelley have been making their home at the Will Taylor farm.
Mr. Kelley united with the church when he was seventeen years old and all through his life was a faithful Christian and active worker in the church, teaching Sunday school classes, serving as superintendent of the Sunday school and as chore leader. While in Minnesota he served for most of the time as a director on the school board. In civil and religious matter, Mr. Kelley made a fine contribution throughout his active life, and in his declining years was a quiet and ripening type of Christian saint.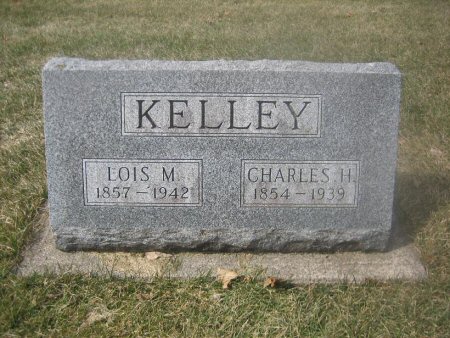 (Source: findagrave.com/Sandy)