Notes for ALICE RANDALL HULET:

Daughter of Walter John and Martha Florence (Fuller) Randall.
Born: April 26, 1899 in Pine, Gila County, Arizona.
Baptism: June 6, 1908 (Mormon/LDS)
Died: November, 20, 1978 in Dillon, Beaverhead County, Montana.
Buried: November 22, 1978, Mt. View Cemetery, Dillon, Beaverhead County, Montana.
Last Residence: Dillon, Beaverton County, Utah.
Census: January 3, 1920, Mesa, Maricopa County, Arizona.
Married: David Willard Hulet June 8, 1921 in salt Lake City, Salt Lake County, Utah.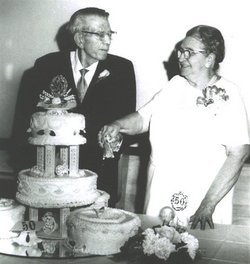 (Source: findagrave.com/Ted and Kathleen (Hulet) Cox)


Served as First Councelor of the Primary in the Chandler Arizona Ward 1945 and 1946 (Chandler Arizona Ward Records)

Obituary:
Obit from Dillon Tribune Examiner dated Nov 23 1978
ALICE RANDALL HULET, 79
Mrs. David W. Hulet, 79, died early Monday morning November 20, 1978 in the Barrett Hospital in Dillon.

Alice Randall was born in Pine, Arizona, on April 26, 1899 to Walter John and Martha Fuller Randall. She was the oldest of nine children and lived the greater part of her life in Arizona. She was married to David W. Hulet on June 8, 1921 in the Salt Lake Temple. During their marriage they lived in Arizona, New Mexico and Idaho and finally settled in Dillon in 1966. She resided on the ranch north of Dillon until 1976 at which time it became necessary for her to be cared for in the Parkview Acres Rest Home.

Mrs. Hulet was preceded in death by her husband, David W. her son, Randall S., an infant son, Vernon C., her father, mother, and two brothers, Glen L. and Merrill J. (Bud) Randall.

She is survived by her son Glen Alton of Dillon; sons and daughters-in-law Mr. and Mrs. David Walter Hulet of Beaumont, Texas; Mr. and Mrs. John Willard Hulet of Dillon; Dorothy A. Hulet and Loraine J. Hulet of Dillon; brothers Alfred and Melvin Randall of Mesa, Arizona; George Randall of Pine, Arizona; sisters Mrs. Clyde (Hazel) Hunsaker, Pine, Arizona; Mrs. Melvin (Della) Fox and Mrs. Lonnie (Florence) Howard of Mesa, Arizona; 25 grandchildren, 28 great-grandchilderen and numerous nieces and nephews.

Mrs. Hulet was a life long member of the Church of Jesus Christ of Latter-day Saints.

Funeral Services will be held Wednesday, Nov. 22 at 2.00 p.m. at the Dillon Church of Jesus Christ of Latter-day Saints. Burial will be in the Dillon Mt. View Cemetery. Brundage Funeral Home is in charge of arrangements.