Notes for LEMUEL MELBOURNE MACOUBRIE:

Son of Arthur Elwood (McCoubrey) and Mary Jane "Polly" (Fife) Macoubrie.
Born: December 30, 1853 in Bellbrook, Greene County, Ohio.
Died: December 12, 1929 in Olathe, Johnson County, Kansas.
Buried: Piedmont Cemetery, Piedmont, Greenwood County, Kansas.
Married: Laura Darling Bannister May 31, 1887 in Richmond, Ray County, Missouri.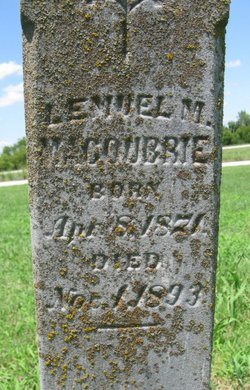 (Source: findagrave.com/Judy Mayfield)