Notes for GEORGE W MACOUBRIE:

Son of George Nathan and Ada (Boyer) Macoubrie.
Born: February 13, 1930 in Burlington, Coffey County, Kansas.
Died: December 29, 2010 in Abilene, Dickinson County, Kansas.
Buried: Mount Zion Cemetery, Junction City, Geary County, Kansas.
Military Service: Korean War - U.S. Army.
Married: Donna M Martinitz October 16, 1955 in Junction City, Geary County, Kansas.
His sister, Margaret Ann, married Donna's brother, Paul D.
Obituary
The Abilene Reflector-Chornicle
George W. Macoubrie
George W. Macoubrie, 80, of Abilene, died Wednesday, Dec. 29, 2010, at the Village Manor in Abilene.
He was born Feb. 13, 1930, in Burlington, the son of George N. and Ada Ellen (Boyer) Macoubrie. He grew to manhood in the community of his birth, attended the local schools and Burlington High School. He was a Korean conflict veteran serving with the United States Army.
On Oct. 16, 1955, he married Donna M. Martinitz in Junction City. They made their home in Omaha, Neb., Wellsville and Enterprise prior to moving to Abilene. He had worked for the railroad, Ehrsams Foundry and ALCO prior to retiring.
He was a member of the Emmanuel Methodist Church and was active in the Geary County Fish and Game Association in Junction City.
Survivors include one son, Garold D. Macoubrie of Abilene; one daughter, Dianna M. Macoubrie of Abilene; one brother, Raymond Macoubrie of Paola; three sisters, Della Lou Hinkle of Chapman, Lucile Peck of Junction City and Margaret Ann Martinitz of Woodbine; three grandchildren; eight great-grandchildren and other relatives.
Besides his wife, Donna, he was preceded in death by a brother, Francis Macoubrie.
Funeral services will be at 1:30 p.m. Monday, Jan. 3, at the Martin-Becker-Carlson Funeral Home in Abilene with Pastor Lindsey Brummer officiating. Burial will be in the Mt. Zion Cemetery with military graveside honors. Friends may call at the funeral home until time of service.
Memorial contributions may be made to Alzheimer's research or the Diabetes Association and left at the funeral home.
Online condolences may be left at www.mbcfh.com.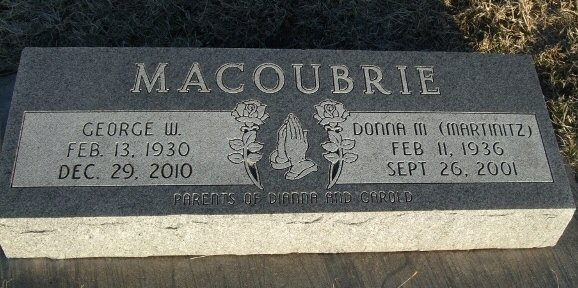 (Source: findagrave.com/jmloveshersoldier)