Notes for MONIQUE RAYMONDE LUSTIG GINCIG:



Holocaust Survivor
Daughter of Benjamin Hersch and Lea Elisabeth (Klinger) Lustig.
Born: July 7, 1939 in Pont-a-Mousson, France.
Died: August 16, 2011 at home in Eastsound, Orcas Island, San Juan County, Washington.
Buried: August 18, 2011 in Plot 130A (S 1/2 of NW 1/4) Woodlawn Cemetery, Eastsound, Orcase Island, San Juan County, Washington.
Immigration: To Los Angeles, California November 19, 1966
Married: William Alan Gincig April 1, 1960 in Nancy, France (Civil Ceremony).
April 3, 1960 in Nancy, France (Religious Ceremony).




OBITUARY

Gincig, Monique
Islands Sounder Eastsound, WA
August 24, 2011



Monique Gincig's life has come to an end. She was very loved by the community, her friends, the Odd Fellows, and her family.
Monique was a child survivor of the Holocaust.
Monique Raymonde Lustig was born in Pont a Mousson, France in 1939. She joined her sisters, Rene, Lily and Ginette. Her parents were deported when she was three. Monique was sheltered during the war by caring people, thanks to whom she had the rest of her life, and was cared for by family friends after the war. Her happiest days of her childhood were at summer camp with other child survivors.
Monique attended secretarial school for two years and became a personal secretary at the age of sixteen. She met Bill Gincig in France, and he would become her lifelong partner and loving husband for 51 years. Bill and Monique made what she called "a team" and worked well together throughout her life. Monique loved to work in the garden and preserve food that she grew. They danced very well together.
Debby was born in 1961 and Didier was born in 1962. Monique was a devoted mother who did her best in raising her children properly. Monique was an excellent cook and took pride in her homes she created with her husband. She made great desserts, excellent crepes, and fine meals night after night for more than 50 years of marriage and parenting. When Monique put her mind to a task, she accomplished it with stubborn pride. In 1966, the family left France for Los Angeles. It was very hard for Monique to leave her roots. She would soon become part of her husband's family and had a deep connection with her mother-in-law (whom she called "mother") and her grandmother-in-law.
Monique worked at a fabric store and soon learned to quilt. She became a quilting teacher in Los Angeles and Orcas Island. Her artwork is in many homes.
Monique and Bill's first grandchild, Erik, was born in 1989. Thaddeus was born in 1990, and their one and only granddaughter, Emilie, was born in 1993. Monique loved her grandchildren very much.
Bill and Monique moved to Orcas Island in 1997. They quickly fell in love with the beauty and peacefulness of island life. Monique volunteered for several plays, doing excellent work with props backstage. She was active in putting on activities for the Garden Club and putting on dances for the Dance Club. She spent many days selling raffle tickets in front of the store for several causes. She made quilts for fundraising efforts. Monique organized community Thanksgiving dinners for many years, putting her entire self into it even throughout her illness.
Seven years ago she developed an illness, which slowed her down but didn't stop her from continuing to contribute to the Orcas community. Her faithful, supportive husband was by her side for off-island appointments and to meet her needs for the rest of her life.
Monique will be remembered as being a generous, loving, strong-willed, hardworking woman. She wishes to thank the community for the love and kindness shown to her and her family throughout the years. Monique will be remembered fondly by her friends and family, Bill Gincig, her three sisters, her daughter and son, and her grandchildren. She is freed from her pain and is resting in peace.
In lieu of flowers, donations may be sent to Orcas Family Health Center (286 Mount Baker Rd, #B102, Eastsound, WA 98245).
A celebration of Monique's life will be held at the Odd Fellow's Hall Sunday, Aug. 28 from 12:30 to 3:30. Everyone is welcome.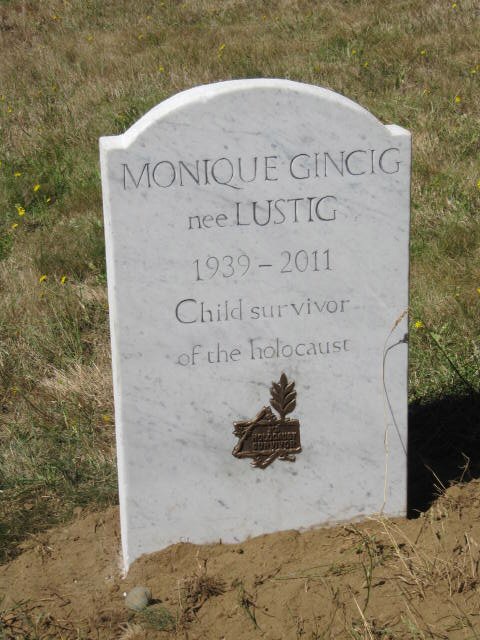 List of Jews in Pont-a-Mousson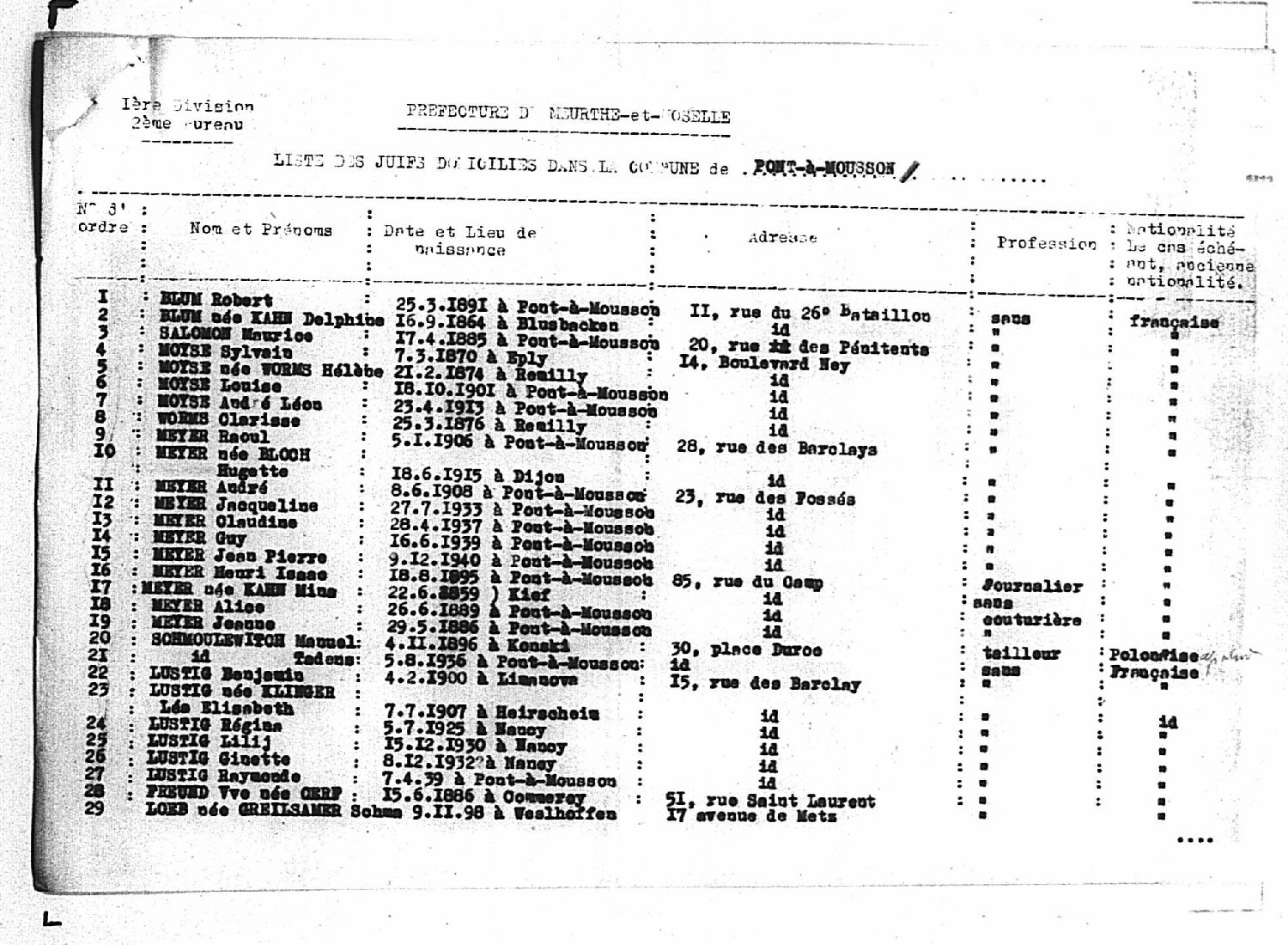 List of Jews in Pont-a-Mousson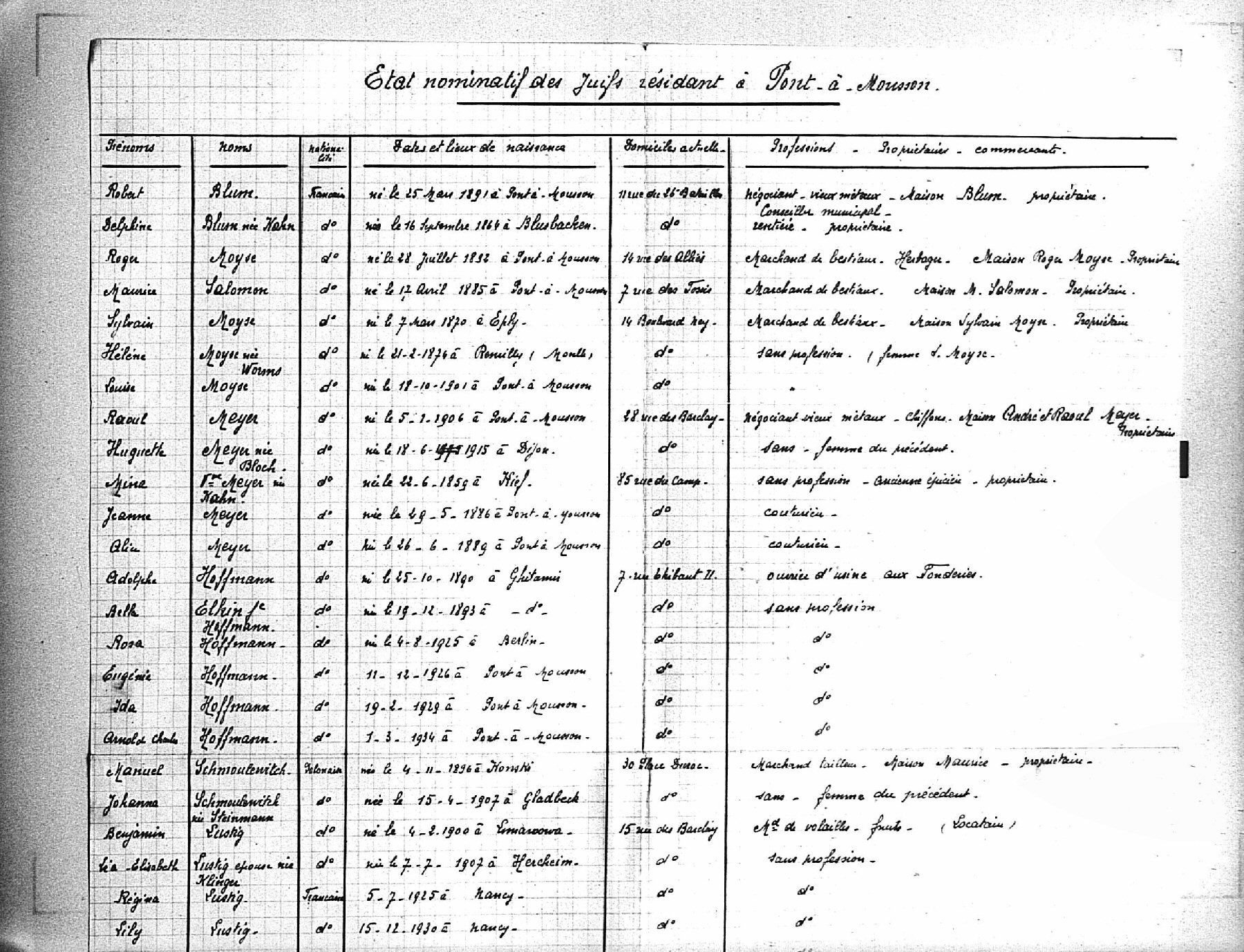 Book of Righteous Gentiles - Marguerite "Gaby" Pages-Hugel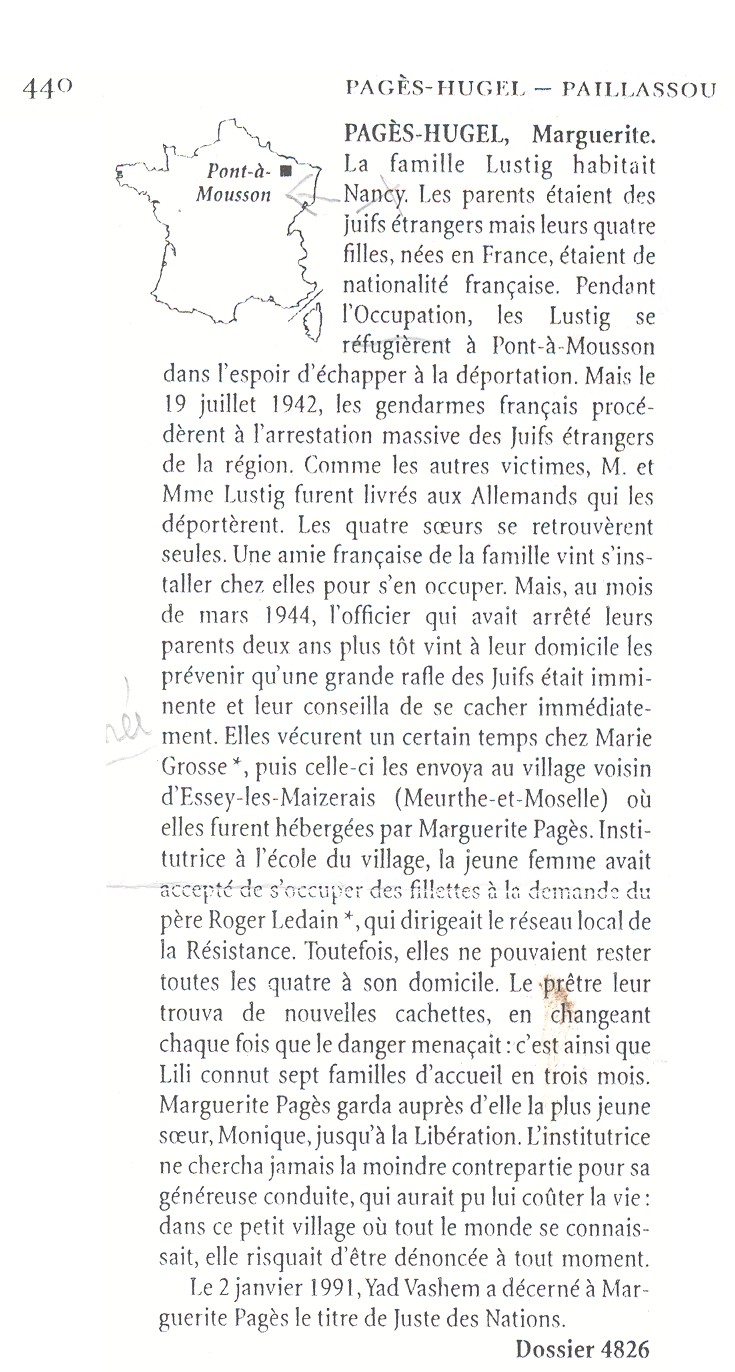 Article on the Four Sisters - Pont-a-Mousson Paper of Memories of Deportees (Translated)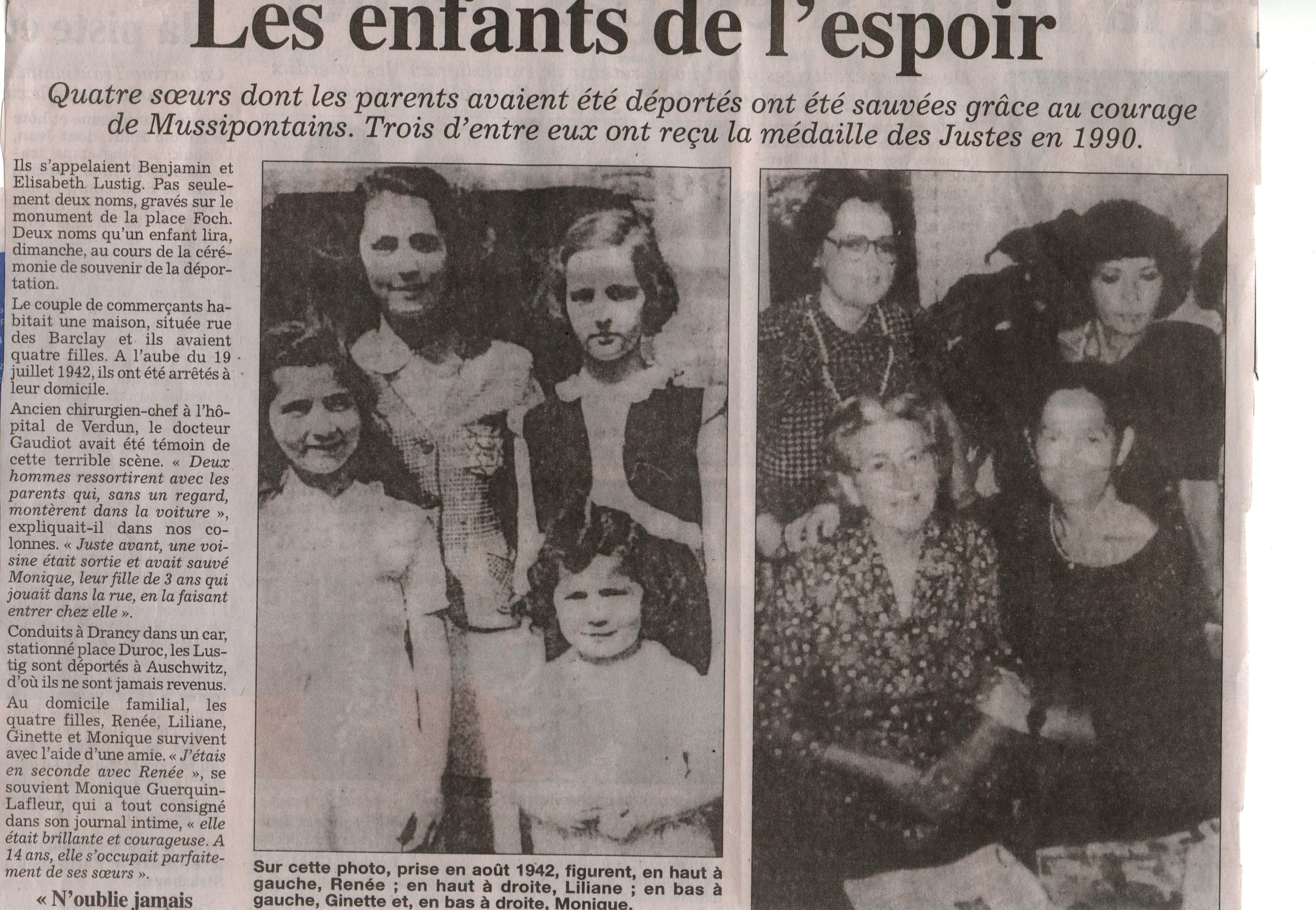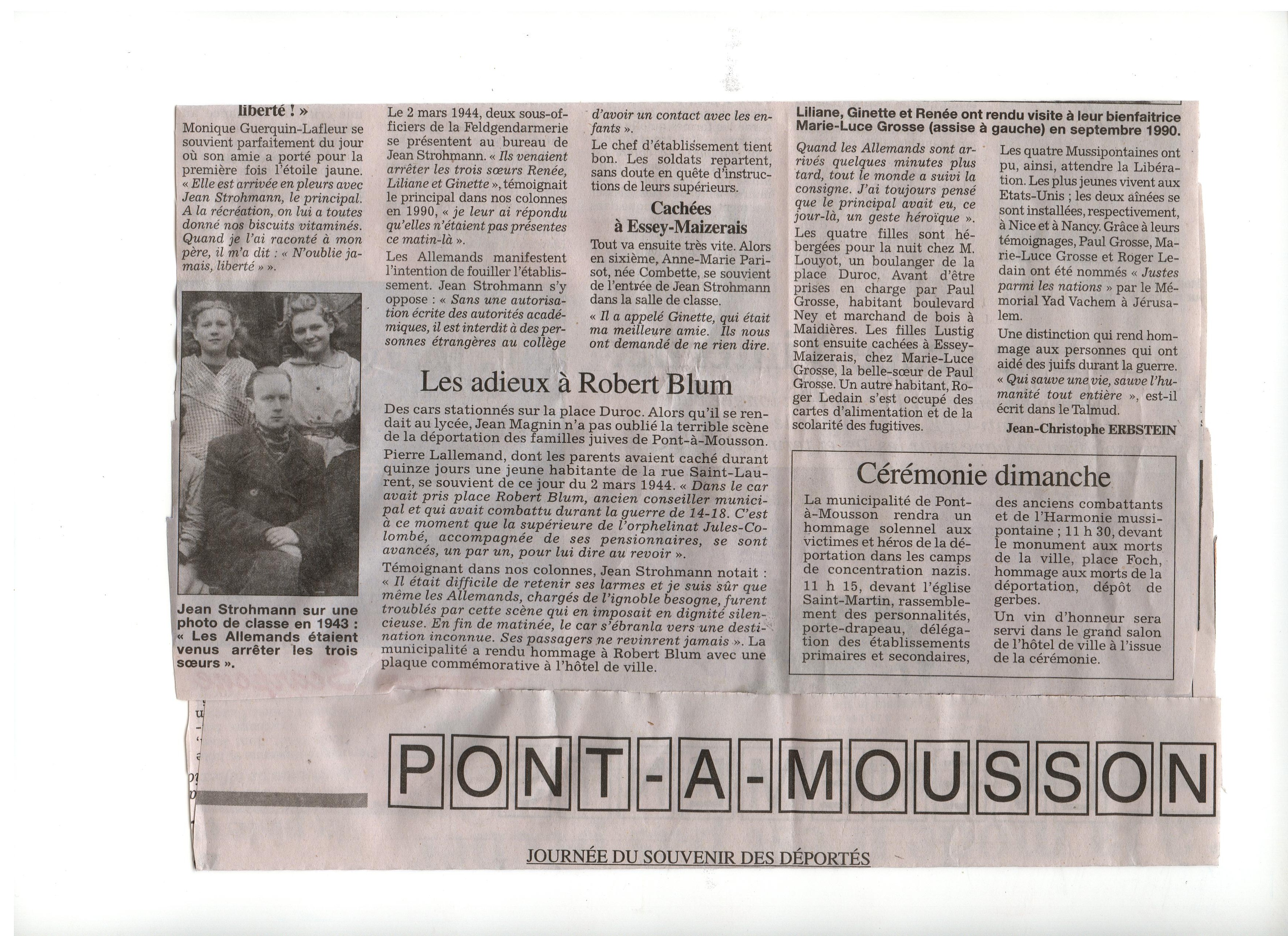 French Article on Mom During War II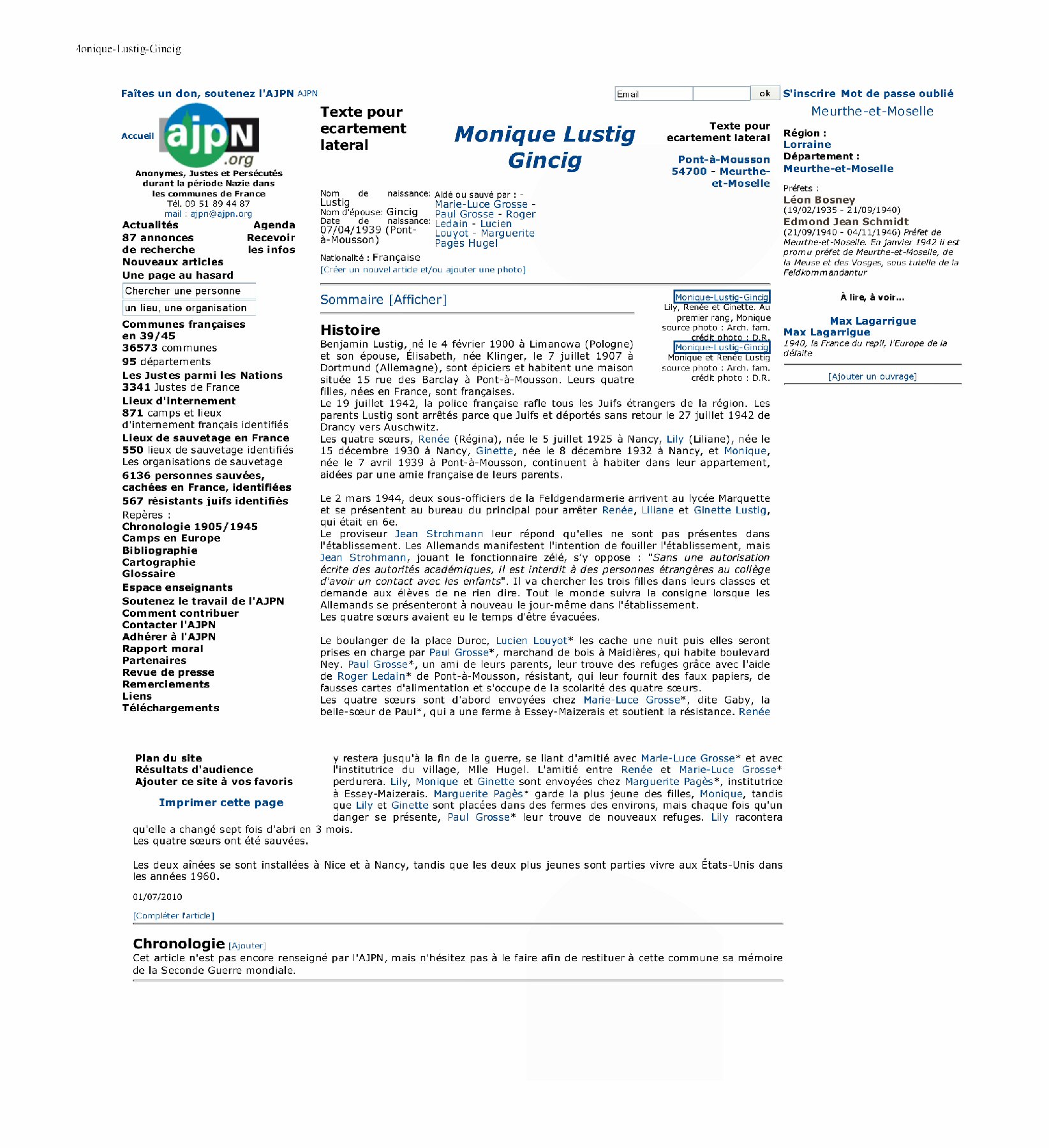 Lea Elisabeth Lustig With Daughter, Monique - 1939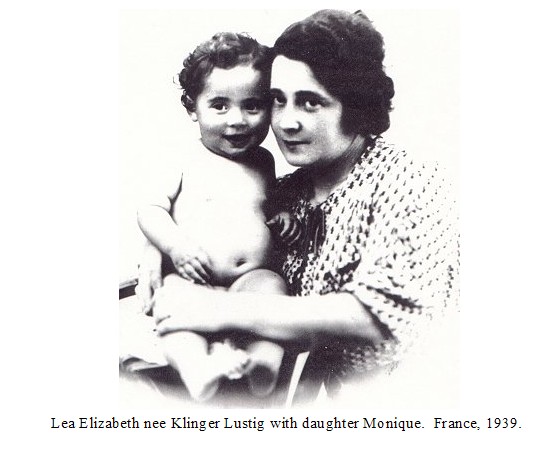 Monique Lustig - Age 3



Monique (Gincig) and Renee (Goldman) Lustig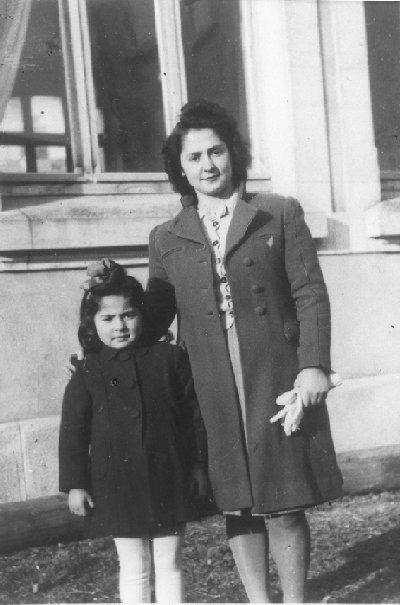 The Four Lustig Girls(Start top left): Lily, Renee, Ginette, Monique - 1942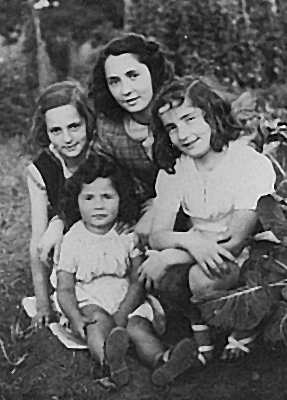 The Four Lustig Girls(Start top left): Renee, LilyGinette, Monique - 1942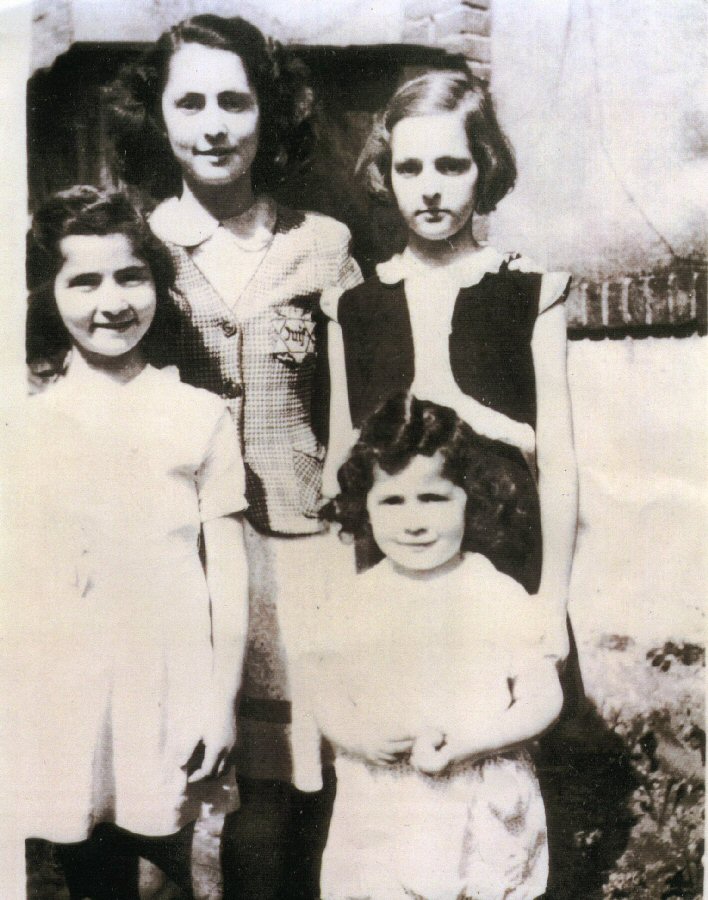 Starting top Left: Marie-Luce (Gabby) Grosse, Renee, Lily, Ginette, and Monique Lustig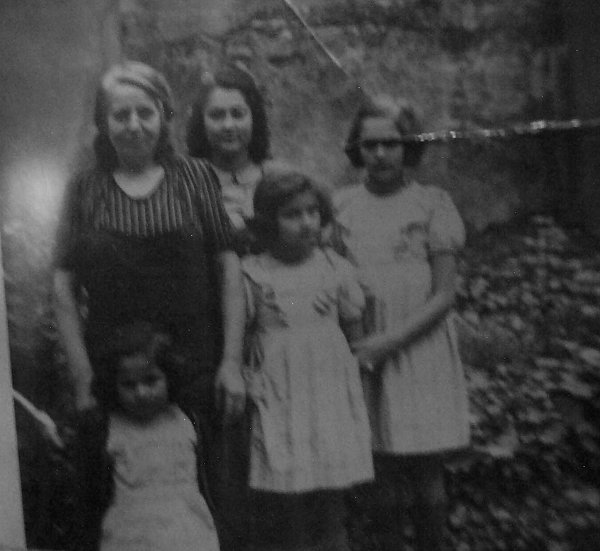 The Four Lustig Sisters - 1960: ?, Monique (pregnant with daughter Deborah), Ginette, Lily, Renee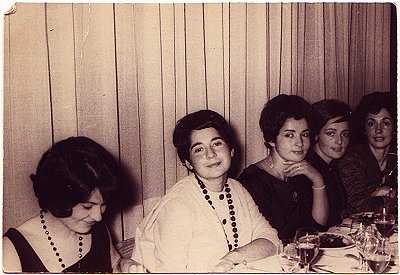 Monique, Renee and Lily Lustig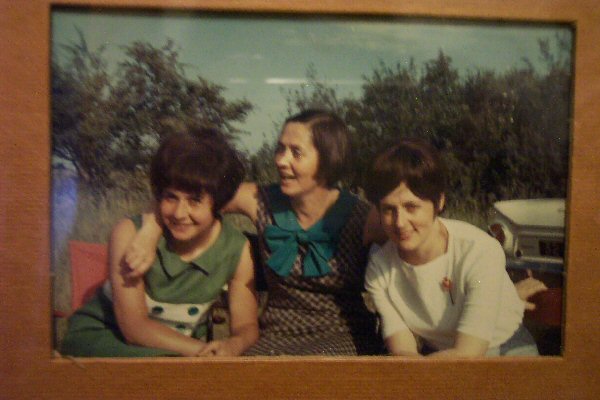 William and Monique (Lustig) Gincig 1960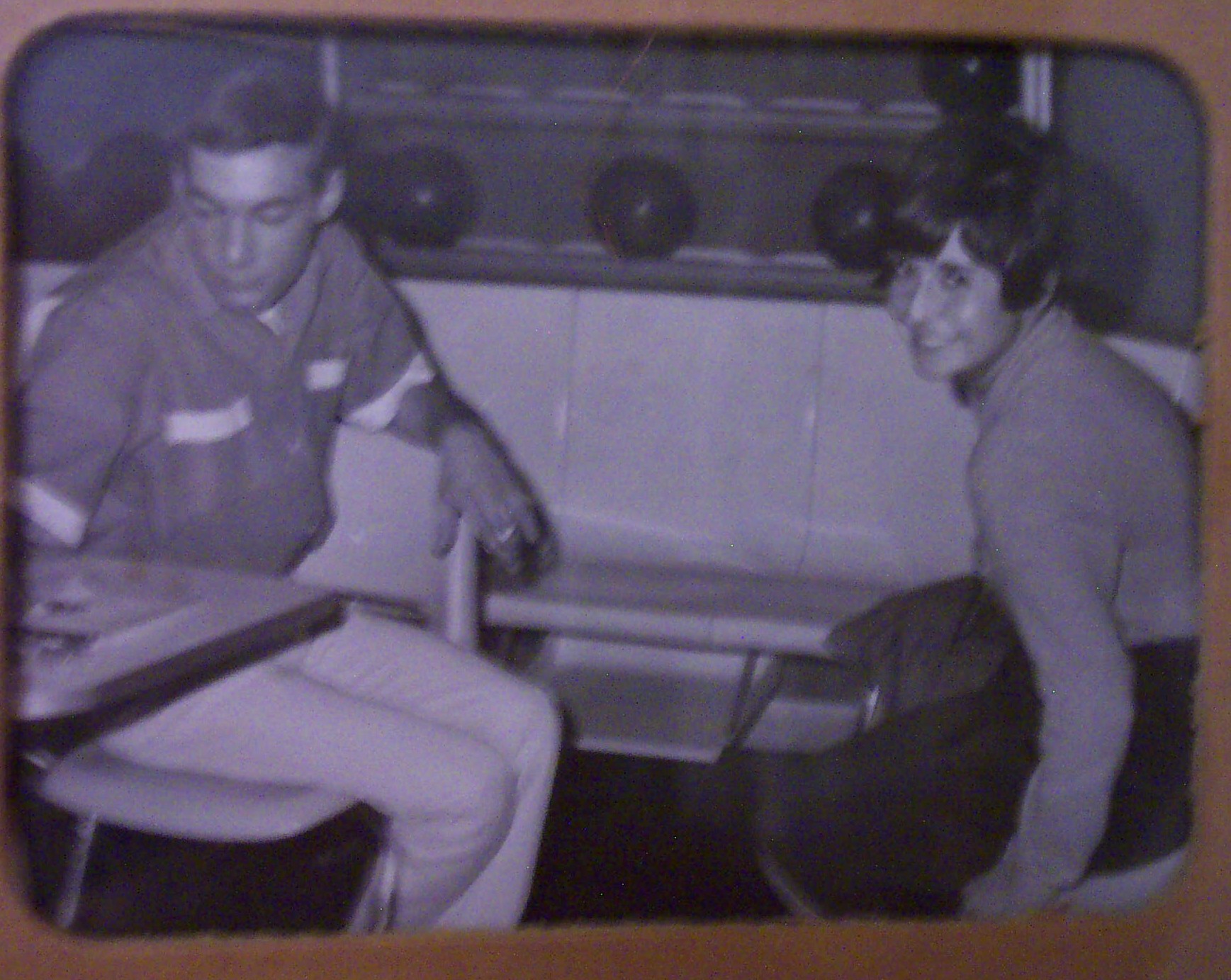 The Four Lustig Sisters 1993 - Renee (Goldman), Ginette (Rosenblum), Monique (Gincig), Lily (Redner)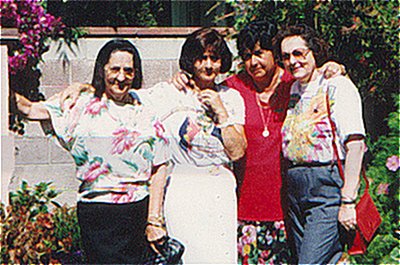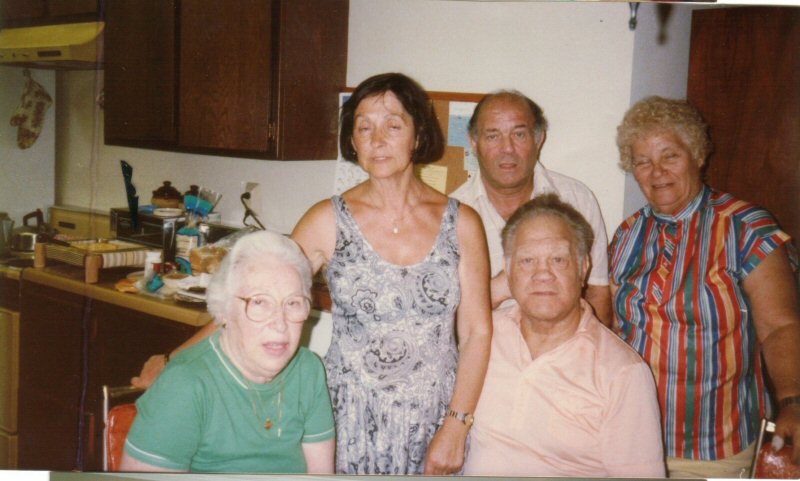 Edith (Weitz Gincig) Goldstein with Monique (Lustig) Gincig



Benoit Macchi and Monique (Lustig) Gincig on Orcas Island Lavender Farm.



Gincig Clan - 1994



Bill and Monique Gincig 2003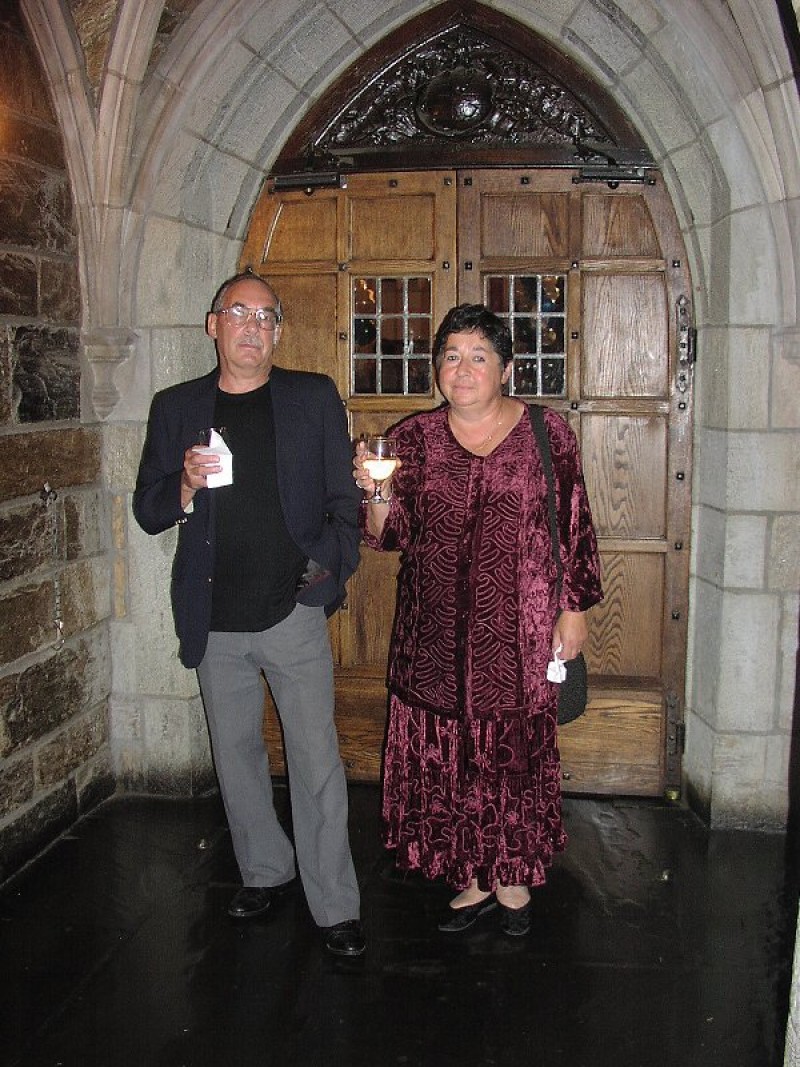 Bill and Monique Gincig 2006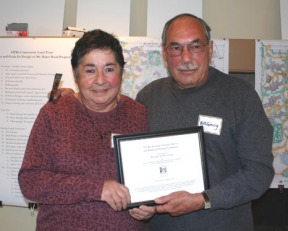 Something We Thought We'd Never See!! - From Eastsound's Production of the Play "Nunsense"