Notes for ROBERTA JOY KLIBANOFF UHR:

Daughter of Max and Freda (Kotimsky) Klibanoff.
Born: October 10, 1931 in Unknown.
Died: March 5, 1983 in Dallas, Dallas County, Texas.
Buried: Plot: Sec 8, Lot 9, Space 6; Clover Hill Park Cemetery, Birmingham, Oakland County, Michigan.
Married: Jonathan William Uhr Unknown in Unknown.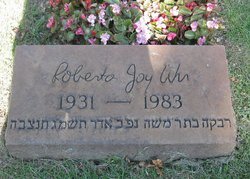 (Source: findagrave.com/"Twist")