Notes for NISLE LEVI KLINGER:

Daughter of ? and ?.
Born: August 22, 1881 in Konigshofen, near Strasbourg, France.
Died: August 21, 1943 Auschwitz Concentration Camp.
Married: Mosiek Srul "Max" Klinger
Residence: 1938 Rheinishe Strasse 88 Dortmund
Moved after krystalnacht to Leopaldstrasse 23 "Judenhaus" (by 1941)

According to deportation list via Food Office deportation was to take place November 11, 1941. However did not start until January 27, 1942 to Riga (Latvia). Meantime forbidden to deport workers and their families. Food office shows her name as Nisle, Klinger born Levy

Dortmund, Germany Population Census May 1939 (computer transcript):
N i s l e r K l i n g e r, born L e v i (widow)
born 28.8.1881 in Koenigshofen near Strassburg

Conclusions from the Dortmund Archives A report by the Dortmund Archives with information found by me and their searches.

Birth Certificate?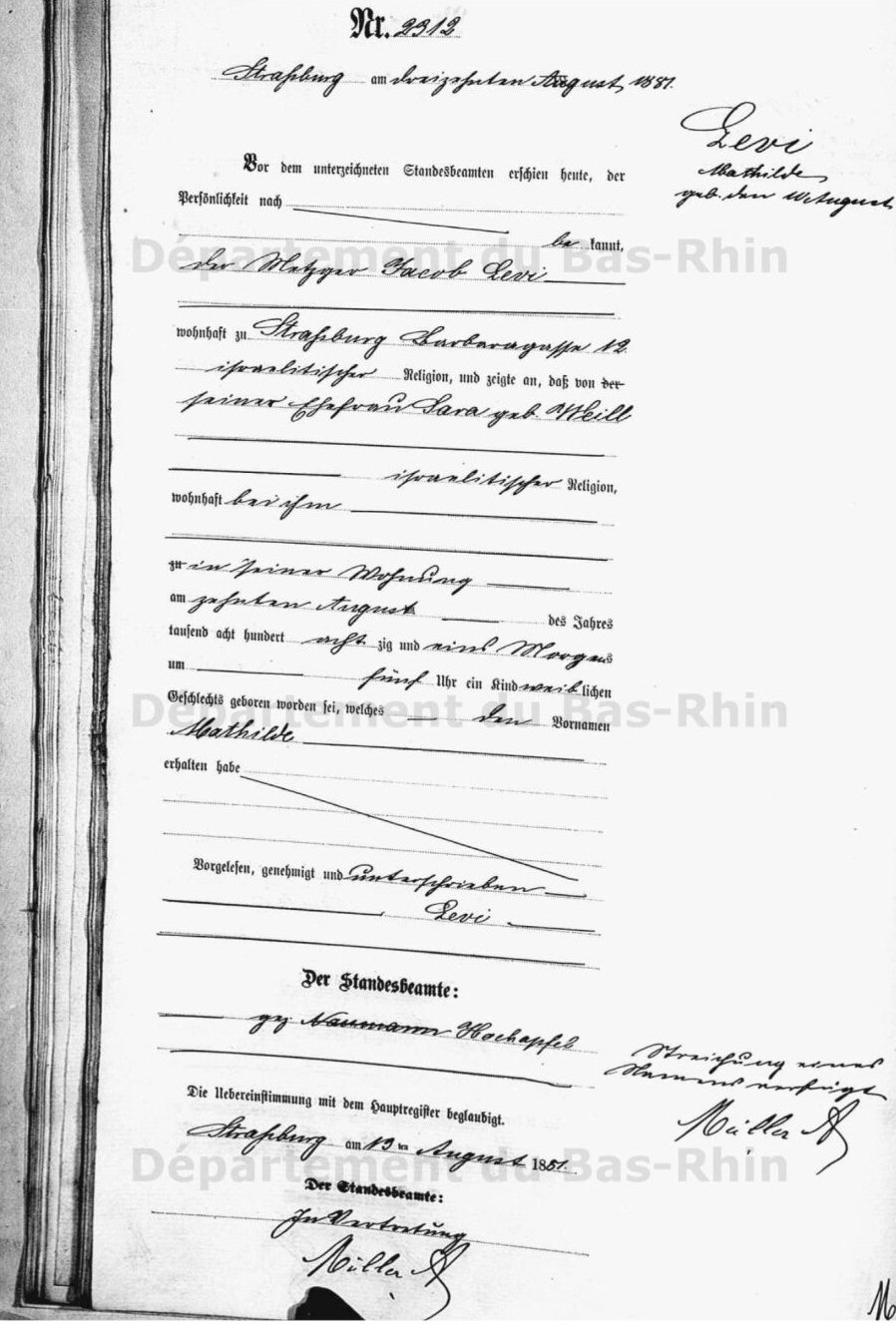 Anna Joskowitz Klinger or Nisle Levi Klinger with Lea Elisabeth Klinger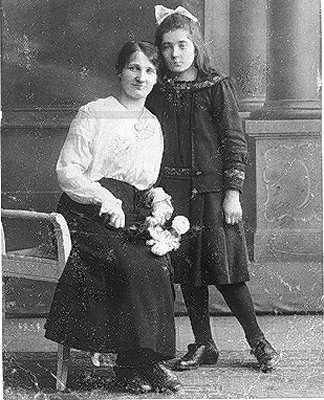 /A>

Fanny And Nisle (Levi) Klinger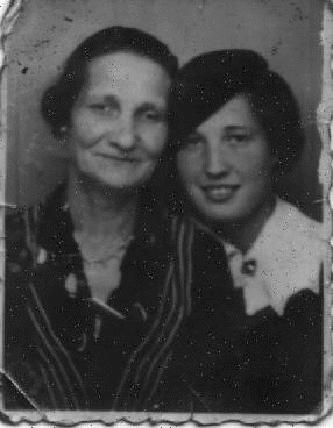 1921 Dortmund Census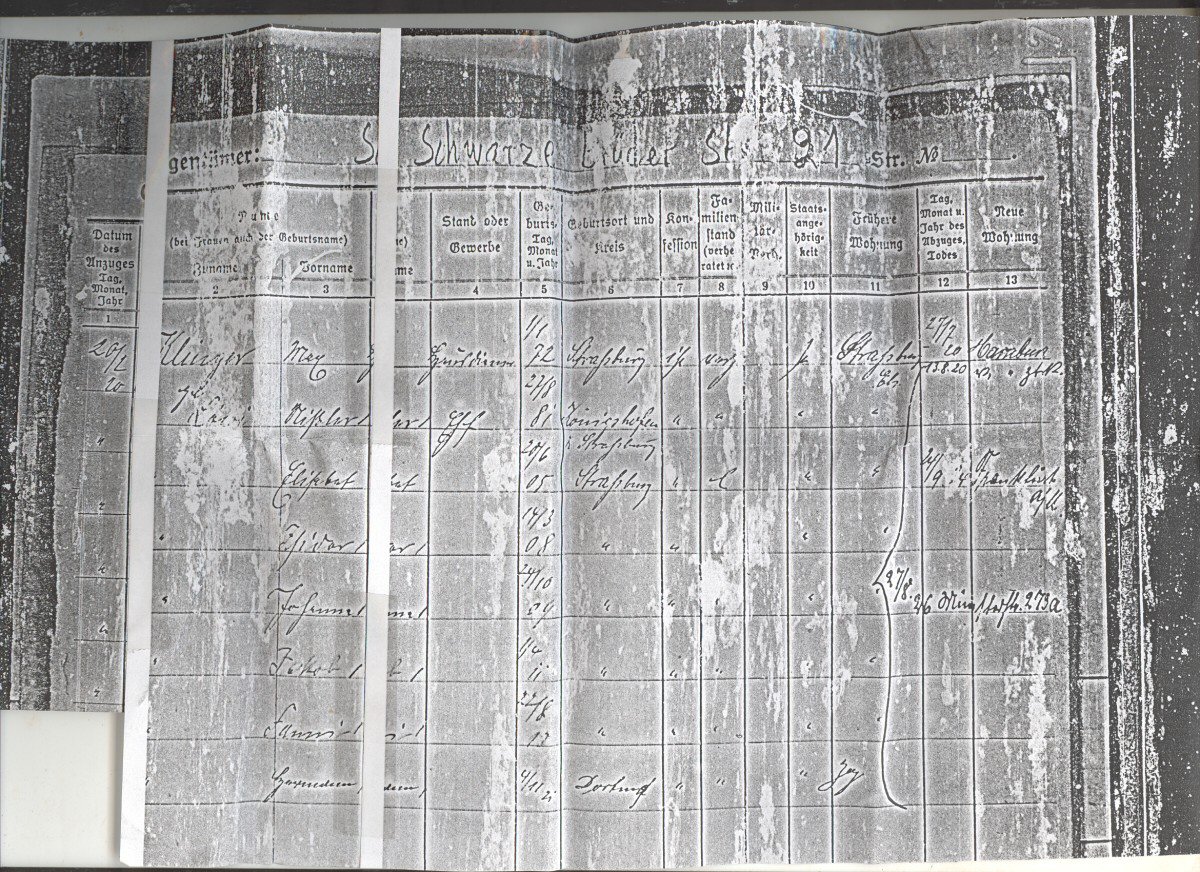 Jewish Women Who Lived in Dortmund, Germany Between 1930 and 1943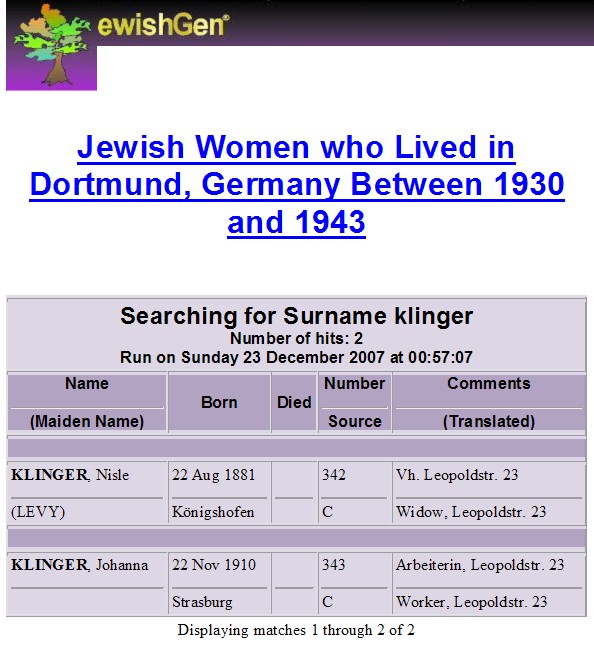 Dortmund Deportation Memo Pg. 1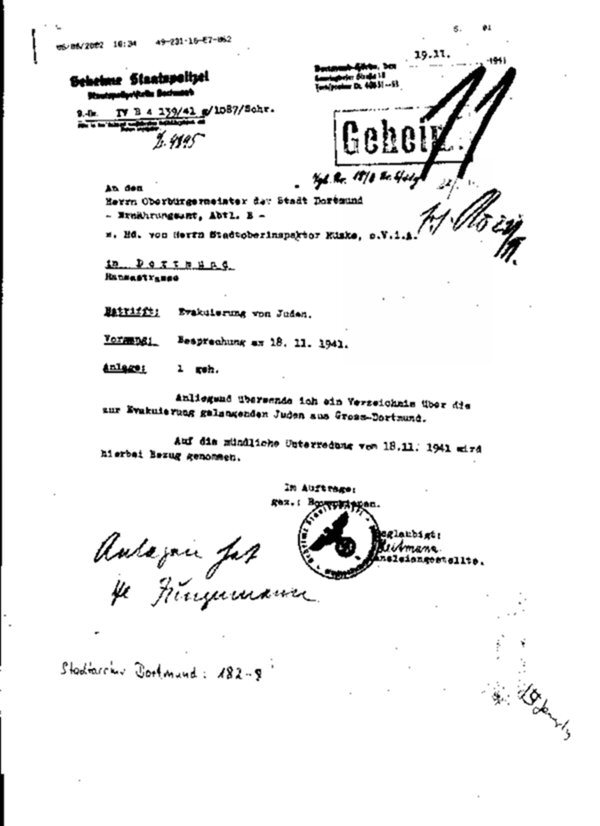 Dortmund Deportation Memo Pg. 2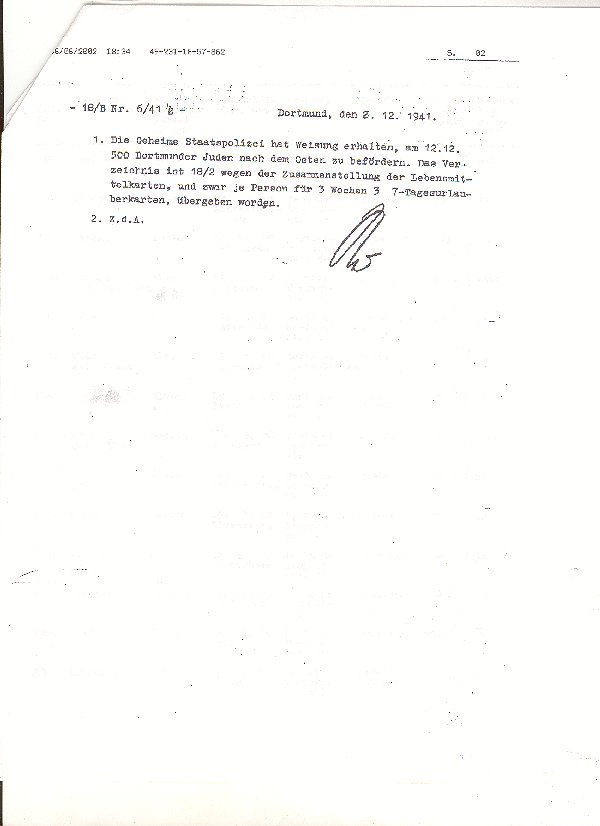 Dortmund Deportation List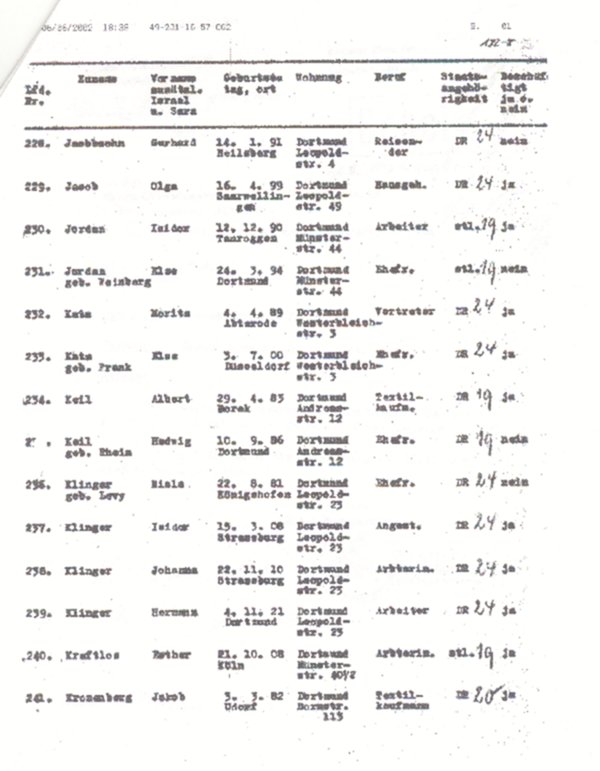 International Red Cross Tracing Center Pg. 1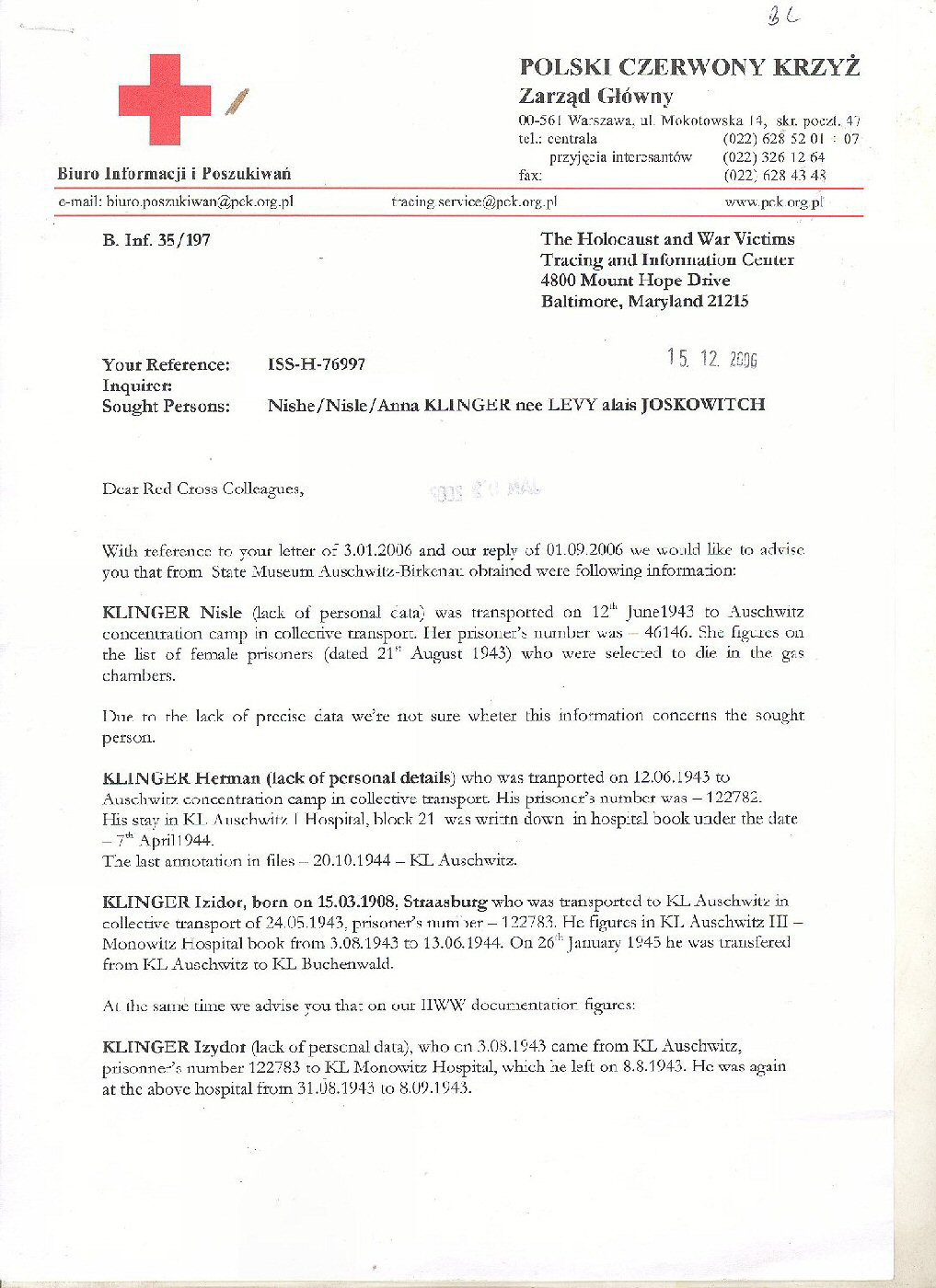 International Red Cross Tracing for Nisle Klinger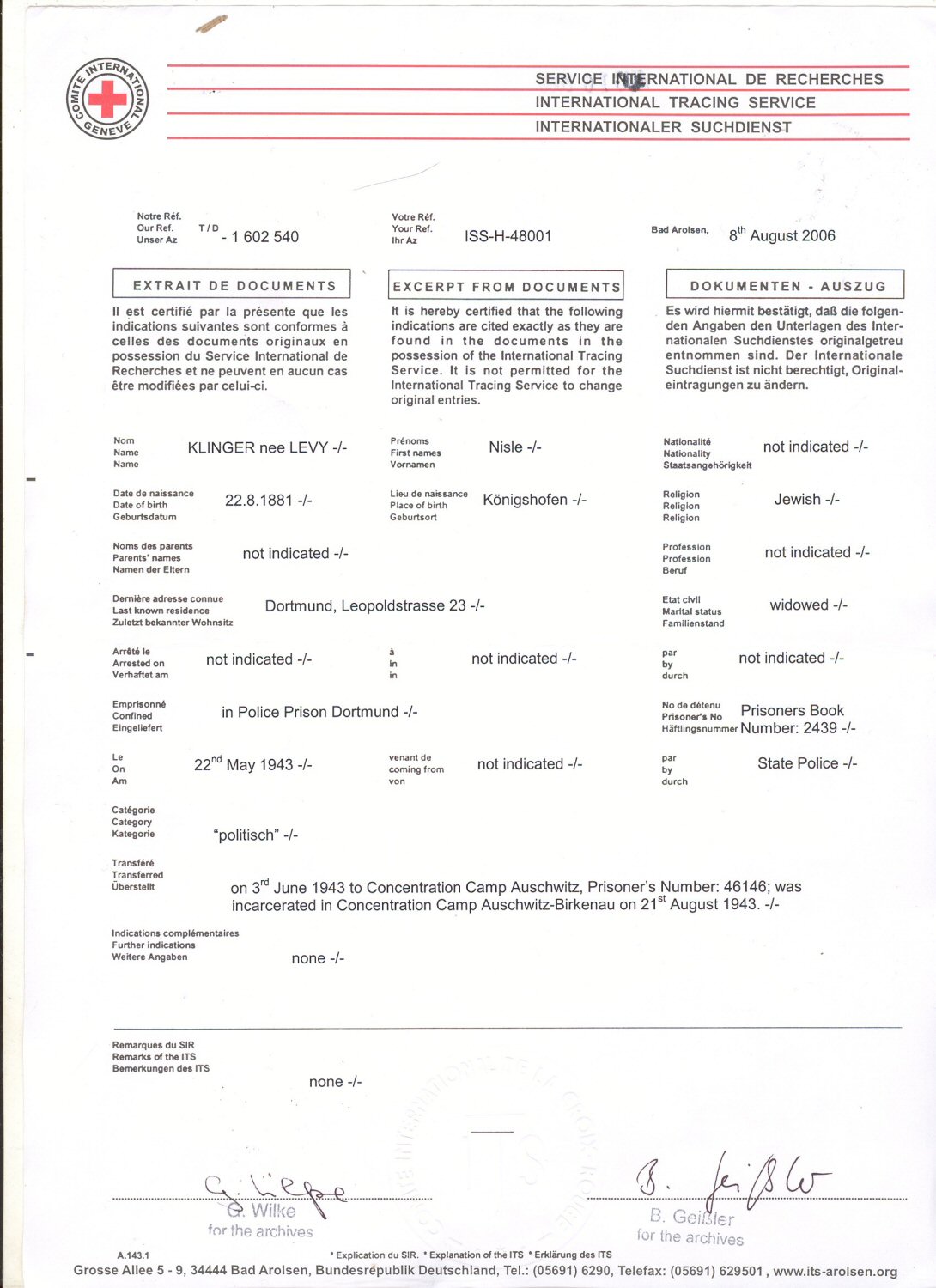 Documents from a card file called "Reichsvereinigung der Juden in Deutschland" or, The National Association of Jews in Germany. The cards for Nishler Klinger (Niesle) are dated March 1, 1943. These index cards indicate that Niesle Klinger was a member of the Jewish community of Dortmund.
(Source: United States Holocaust Memorial Museum)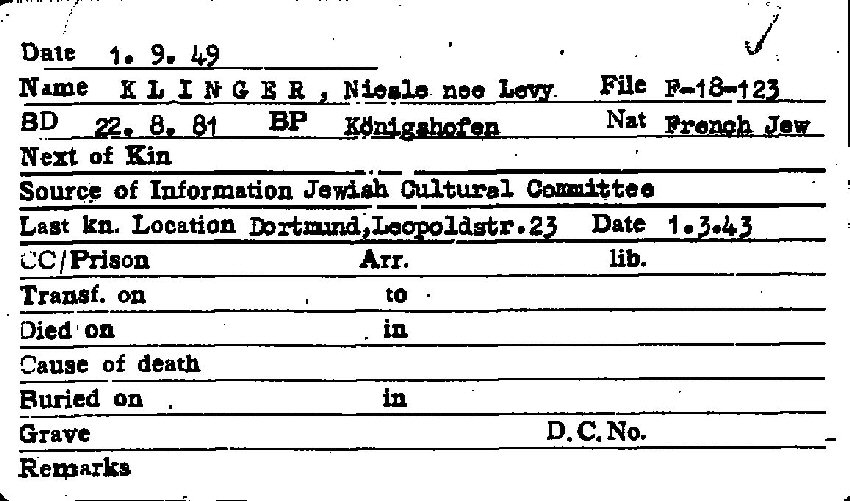 Documents from a card file called "Reichsvereinigung der Juden in Deutschland" or, The National Association of Jews in Germany. The cards for Nishler Klinger (Niesle) are dated March 1, 1943. These index cards indicate that Niesle Klinger was a member of the Jewish community of Dortmund.
(Source: United States Holocaust Memorial Museum)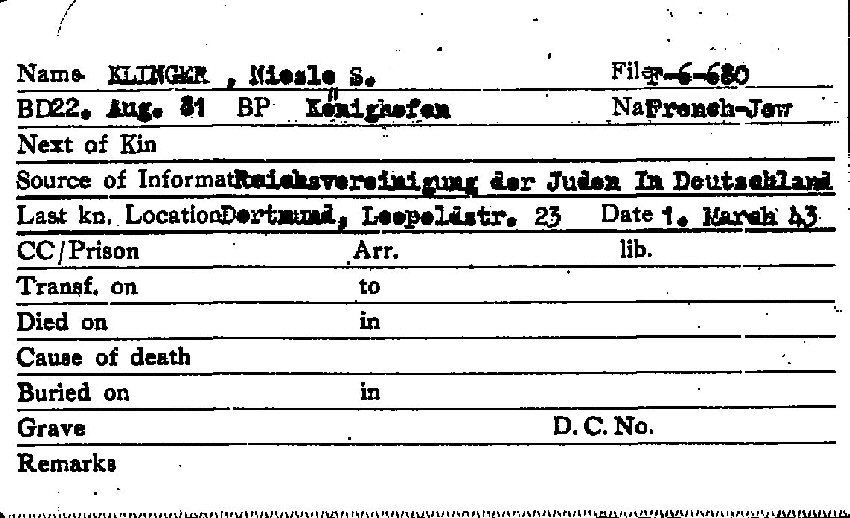 Documents from a card file called "Reichsvereinigung der Juden in Deutschland" or, The National Association of Jews in Germany. The cards for Nishler Klinger (Niesle) are dated March 1, 1943. These index cards indicate that Niesle Klinger was a member of the Jewish community of Dortmund.
(Source: United States Holocaust Memorial Museum)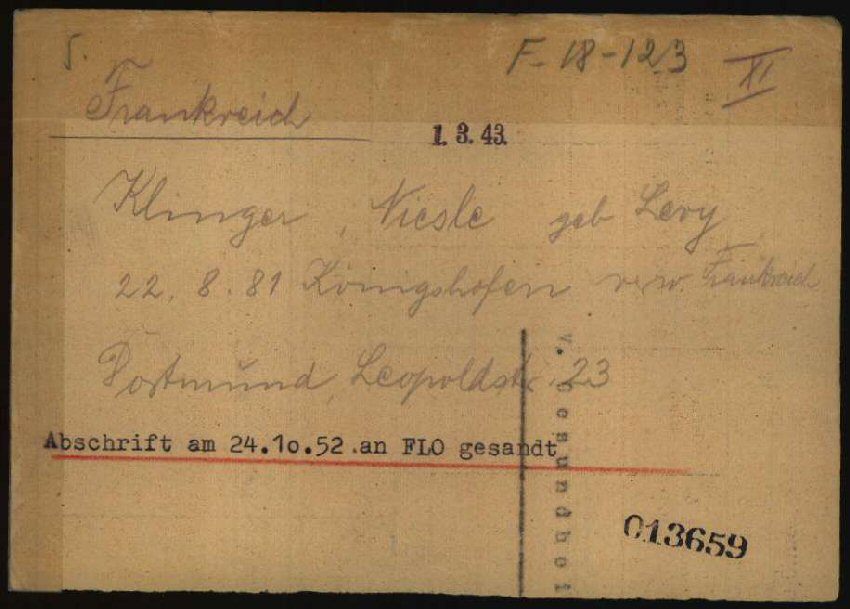 Documents from a card file called "Reichsvereinigung der Juden in Deutschland" or, The National Association of Jews in Germany. The cards for Nishler Klinger (Niesle) are dated March 1, 1943. These index cards indicate that Niesle Klinger was a member of the Jewish community of Dortmund.
(Source: United States Holocaust Memorial Museum)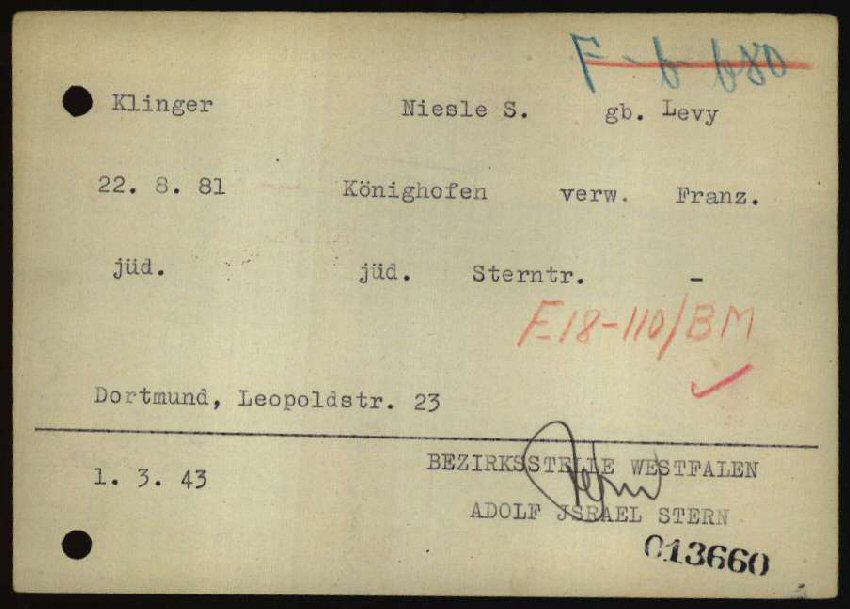 Documents from a card file called "Reichsvereinigung der Juden in Deutschland" or, The National Association of Jews in Germany. The cards for Nishler Klinger (Niesle) are dated March 1, 1943. These index cards indicate that Niesle Klinger was a member of the Jewish community of Dortmund.
(Source: United States Holocaust Memorial Museum)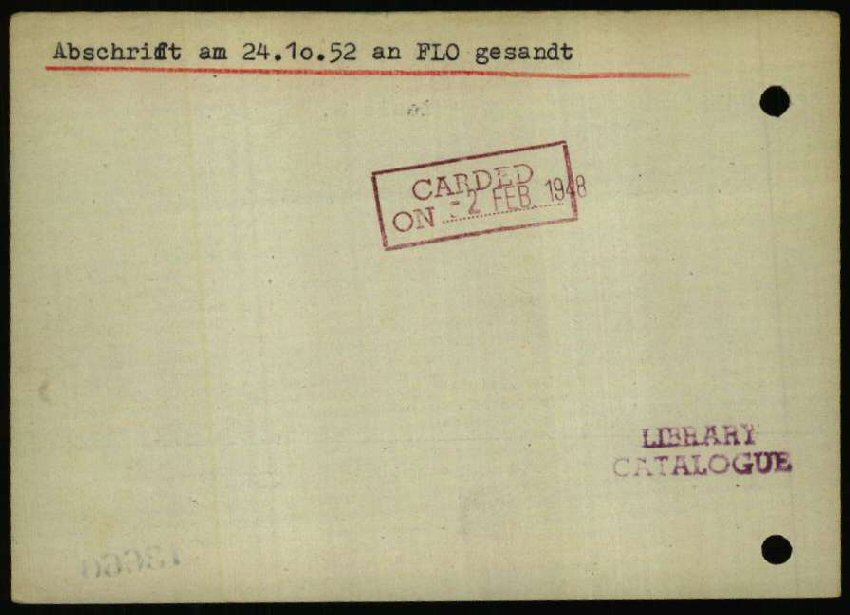 Documents - Page 2