Notes for SUSAN SCHWYHART KINNICK:

Daughter of ? and ?.
Born: About 1809 in Unknown.
Died: September 27, 1884 in Unknown.
Buried: Forest Hill Cemeter, Wyanet, Illinois.
Census: 1860: Dover Township, 4 miles north of Princeton, Bureau County, Illinois.
Residence: Lived on a farm in Dover Township, four miles north of Princeton, Bureau Co, IL, when they first arrived from Ohio, in the summer of 1844.
Married: Walter W Kinnick Unknown in Unknown.

On 2 Oct 1851, Walter purchased, for $185, one-hundred sixty acres of land in Concord Township, Bureau County, from John & Hannah Dodge, who had received their title to the land by Patent from the United States of America. This land laid about eleven mile west and two miles south of their Dover Township farm. Walter was not able to move his family to this land before he died seventeen months later.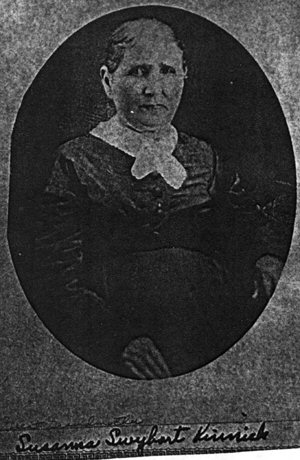 (Source: findagrave.com/K. Roberts)