Notes for THELDA MARCHANT TOLLMAN:

Daughter of Marvin H and Sibyl (?) Marchant.
Born: December 4, 1919 in Wyoming.
Died: February 10, 1994 in Unknown.
Buried: Quiet Rest Cemetery, Story, Sheridan County, Wyoming.
Residence: 1920 - Big Horn, Sheridan County, Wyoming.
Last Residence: Sheridan, Sheridan County, Wyoming.
Married: Frank Lynn Tollman June 2, 1953 in Worland, Washakie County, Wyoming.
1920 Census:
Name: Thelda Marchant
Residence: , Big Horn, Wyoming
Estimated Birth Year: 1920
Age: 0
Birthplace: Wyoming
Relationship to Head of Household: Daughter
Gender: Female
Race: White
Marital Status: Single
Father's Birthplace: Utah
Mother's Birthplace: Idaho
Film Number: 1822025
Digital Folder Number: 4391508
Image Number: 00434
Sheet Number: 4
Household Gender Age
Parent Marvin H Marchant M 34y
Parent Sibyl Marchant F 20y
Thelda Marchant F 0m
Obituary
THELDA TOLLMAN DIED FEB. 10, AT SHERIDAN MANOR OF NATURAL CAUSES. SHE WAS 74.
SHE WAS BORN DEC. 4, 1919, IN LOVELL TO MARVIN AND SYBIL (LINDSAY) MARCHANT. SHE GRADUATED FROM HIGH SCHOOL AND ATTENDED THE BUSINESS COLLEGE IN SHERIDAN.
SHE MARRIED FRANK TOLLMAN IN WORLAND, AND WORKED AS A BOOKKEEPER FOR HARRISON-COOK, DUNCAN AND DICKINSON, AND SHERIDAN ABSTRACT. SHE THEN WORKED AT THE TRADING POST CAFE IN STORY, AND COOKED AT THE LODORE SUPPER CLUB AND WAGON BOX SUPPER CLUB.
SHE ENJOYED SEWING, GOURMET COOKING, AND WAS A MEMBER OF THE MORMAN CHURCH.
PRECEEDING HER IN DEATH WERE AN INFANT SON, ONE BROTHER AND ONE SISTER.
SURVIVORS INCLUDE HER HUSBAND OF SHERIDAN; ONE DAUGHTER, LEODA HEATH OF SHERIDAN; FOUR GRANDCHILDREN, 10 GREAT-GRANDCHILDREN, AND ONE GREAT-GREAT GRANDCHILD.
SERVICES WILL BE 1 P.M. TUESDAY AT THE CHURCH OF JESUS CHRIST OF LATTER-DAY SAINTS WITH THE REV. BRIAN JOHNSON OFFICIATING. INTERMENT WILL FOLLOW AT THE QUIET REST CEMETERY IN STORY. ARRANGEMENTS ARE WITH CHAMPION FUNERAL HOME.
MEMORIALS MAY BENEFIT THE PINE CEMETERY ASSOCIATION AT STORY, IN CARE OF DELPHINE TONER, FIRST INTERTSATE BANK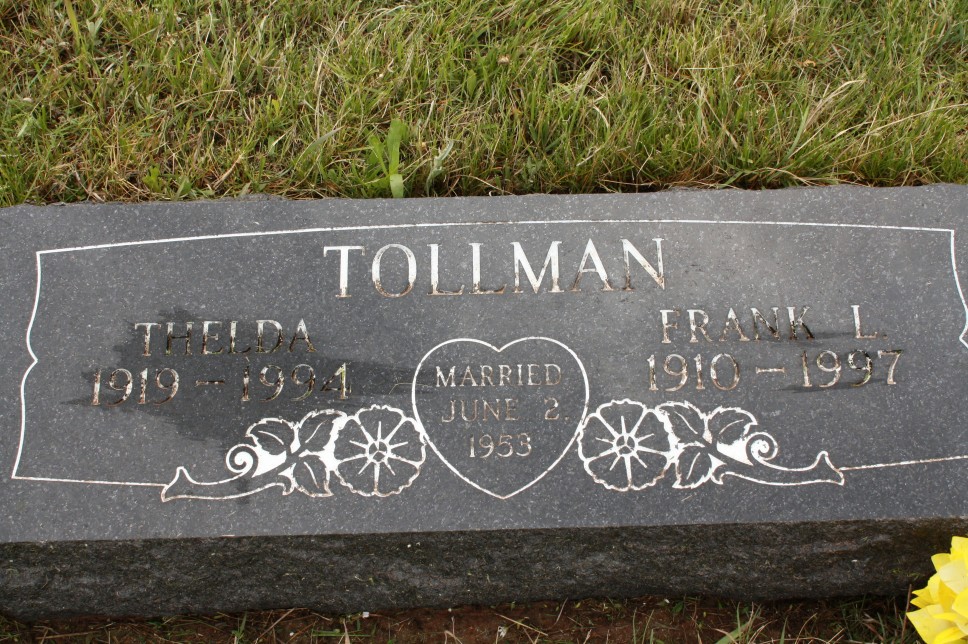 (Source: findagrave.com/Karylyn Petrie)