Notes for RALPH SUMPTER POUNTAIN:

Son of Frederick George and Letta Marie (Humphrey) Pountain.
Born: October 1, 1901 in Eldon, Miller County, Missouri.
Died: November, 1978 in Hospital in Branson, Taney County, Missouri.
Buried: Memorial Park Cemetery, Kansas City, Wyandotte County, Kansas.
Last Residence: Kirbyville, Taney County, Missouri.
Married: Thelma Kier (Hufford) After 1940 in Unknown.
Obituary:
Ralph S. Pountain, 77, Kirbyville, Mo., formerly of Kansas City, Kansas, died Sunday at a hospital in Branson, Mo. He was born near Eldon, Mo., and had lived in Kansas City, Kansas, 25 years before moving to Kirbyville four years ago. Mr. Pountain was a welder for the Procter and Gamble Manufacturing Co. 20 years and a pipe fitter 35 years before retiring in 1974. He was a member of the Eldon Baptist Church. He leaves his wife, Mrs. Thelma Pountain of the home; five sons, Gerald Pountain, Lakeview, Texas; James Pountain, Odessa, Texas; Jon Pountain of near Fairbanks, Alaska; Don Pountain, Marina, Calif., and Ralph Johnson Jr., Los Angeles; three daughters, Mrs. Juanda Stigall, Overland Park; Mrs. Darlyne Wyatt, Shawnee and Mrs. Doris Wade, Coal City, Ill; a brother, Willis Pountain, Independence; a sister, Mrs. Almyrta Guyer, Louisberg, Kan.; 20 grandchildren and nine great-grandchildren. Services will be at 7 p.m. tonight at the Clarkson Chapel, Forsyth, Mo., and at 2 p.m. Wednesday at the graveside at Memorial Park Cemetery, Kansas City, Kansas.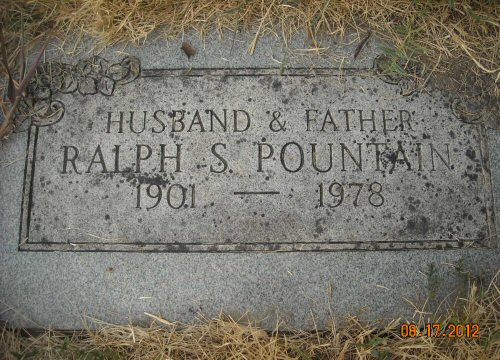 (Source: findgrave.com/Shirley Freeze Stuart)