Notes for MILFORD LEONARD PAHEL:

Son of Nicholas Ellsworth and Mary Ann (Brown) Pahel.
Born: June 1, 1904 in Derry, Westmoreland County, Pennsylvania.
Died: May 20, 1981 in Carmichael, Sacremento County, California.
Buried: Camellia Memorial Lawn Cemetery, Sacramento, Sacramento County, California.
Married: (1) Edith Fulton Before 1928 in Unknown.
(2) Thelma Elizabeth Warren March 22, 1948 in Coraopolis, Allegheny County, Pennsylvania.
Milford Leonard Pahel, twelfth child of Nicholas Ellsworth Pahel and Mary Ann Brown. Married 1) Edith Fulton. They had 2 children - Paul Allen and Nancy Ann and 2)Thelma Elizabeth Warren with whom he also had 2 children. He began his career on the railroad in the Derry yard as a call boy when he was 14 years old. Hired on the Montour Railroad as a brakeman in 1931; retired as a conductor in Jun 1969 for a total of 51 years service.
(Source: findagrave.com/Michael Pahel-Wayne)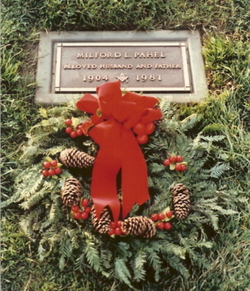 (Source: findagrave.com/Michael Pahel-Wayne)