Notes for GEORGE EDWARD "EDDYVILLE" KIER:

Son of Andrew J and Elizabeth Ann (Darby) Kier.
Born: July 19, 1870 in Gentry, Gentry County, Missouri.
Died: January 11, 1945 in Unknown.
Buried: Maple Hill Cemetery, Kansas City,Wyandotte County, Kansas.
Residence: August, 1914 - Moved to Kansas City, Wyandotte County, Kansas.
Occupation: Worked at the Old Acid Plant, Sante Fe Yards, Kansas City, Kansas. Butcher, Gentry, Missouri.
Married: Florence Amelia "Fiola" Phillips January 16, 1900 in Kirksville, Adair County, Missouri.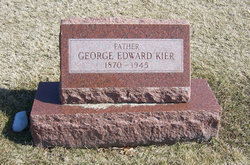 (Source: findagrave.com/D Scott)