Notes for FRANK LYNN TOLLMAN:

Son of Fred L and Susie T (Kier) Tollman.
Born: November 15, 1910 in Nebraska.
Died: May 21, 1997 in Unknown.
Buried: Quiet Rest Cemetery, Story, Sheridan County, Wyoming.
Residence: 1920 - Dawes County, Nebraska.
Last Residence: Sheridan, Sheridan County, Wyoming.
Married: Thelda Merchant June 2, 1953 in Worland, Washakie County, Wyoming.
1920 Census
Name: Frank Tollman
Residence: , Dawes, Nebraska
Estimated Birth Year: 1910
Age: 10
Birthplace: Nebraska
Relationship to Head of Household: Son
Gender: Male
Race: White
Marital Status: Single
Father's Birthplace:
Mother's Birthplace:
Film Number: 1820981
Digital Folder Number: 4313274
Image Number: 00452
Sheet Number: 7
Household Gender Age
Parent Fred G Tollman M 45y
Parent Susie T Tollman F 40y
Amy G Tollman F 18y
Rex E Tollman M 16y
Ralph S Tollman M 12y
Frank Tollman M 10y
Wayne Tollman M 1y11m
Obituary
FRANK L. TOLLMAN, 86 DIED WEDNESDAY, MAY 21 AT THE VA MEDICAL CENTER IN SHERIDAN.
SERVICES WILL BE HELD WEDNESDAY, MAY 28 AT 1 P.M. AT THE CHURCH OF JESUS CHRIST OF LATTER-DAY SAINTS, WITH BISHOP ROBERT BROWN OFFICIATING. BURIAL WILL FOLLOW IN THE KEARNEY CEMETERY IN STORY, WITH MILITARY HONORS BY THE AMERICAN LEGION AND THE WYOMING NATIONAL GUARD. HE IS SURVIVED BY A STEPDAUGHTER, LEODA HEATH OF CLEARMONT, AND FOUR GRANDCHILDREN, NINE GREAT-GRANDCHILDREN AND THREE GREAT-GREAT GRANDCHILDREN.
MR. TOLLMAN WAS PRECEDED IN DEATH BY HIS WIFE, THELDA; THREE BROTHERS, REX TOLLMAN, WAYNE TOLLMAN AND RALPH TOLLMAN, AND A SISTER, AMY MILLER.
HE WAS BORN NOV. 15, 1910 IN CRAWFORD, NEB TO FRED AND SUSIE (KIER) TOLLMAN. HE SERVED IN THE U.S. ARMY FROM 1941 TO 1945 IN THE MEDICAL CORPS AT FORT LEONARD WOOD, MO.
FOLLOWING HIS HONORABLE DISCHARGE, MR. TOLLMAN WORKED AS A CARPENTER FOR VARIOUS COMPANIES UNTIL HIS RETIREMENT. HE WAS A FORMER MEMBER OF THE CARPENTERS UNION AND A MEMBER OF THE AMERICAN LEGION. HE ENJOYED FISHING.
HE WAS UNITED IN MARRIAGE TO THELDA MARCHANT IN WORLAND ON JUNE 2, 1953. SHE DIED FEB. 10, 1994. CHAMPION FUNERAL HOME IS IN CHARGE OR ARRANGEMENTS.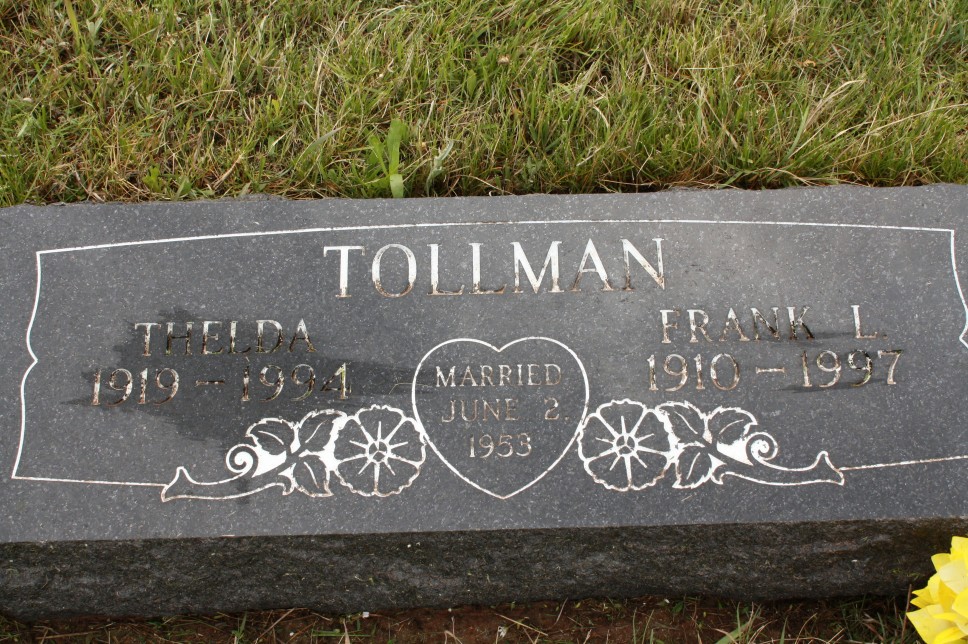 (Source: findagrave.com/Karylyn Petrie)