Notes for FRANCES ANN DUBOSE GLOVER:

Daughter of J A and Nacissus "Tommie" (Kier) DuBose.
Born: March 1, 1891 in Lowndes County, Mississippi.
Died: October 6, 1971 in Shreveport, Caddo County, Louisiana.
Buried: Grand Cane Cemetery, Grand Cane, De Soto Parish, Louisiana.
Last Residence: Washington, D.C.
Married: (1) Roland Glover February 15, 1911 in De Soto Parish, Louisiana.
(2) ? Burke After 1944 in Unknown.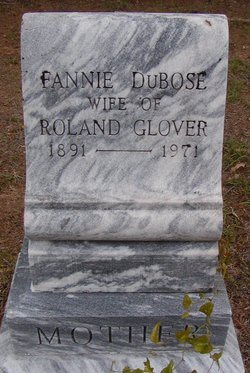 (Source: findagrave.com/Michelle Woodham)