Notes for DELLA JEAN KIER LASHER:

Daughter of Thomas Rhea and Ruth Estella (White) Kier.
Born: July 24, 1928 in Armstrong County, Pennsylvania.
Died: February 4, 1987 in Latrobe, Westmoreland County, Pennsylvania.
Married: Marcus Manssas "Mark" Lasher November 1, 1952 in Avonmore, Westmoreland County, Pennsylvania.
Obituary:
From: The Indiana Gazette, Indiana, Pennsylvania, Thursday, February 05, 1987, Page 26
D. JEAN LASHER, 58, Saltsburg died Wednesday, Feb. 4, 1987, in the Latrobe Area Hospital. A daughter of Thomas Rhea and Ruth White Kier, she was born July 24 1928 in Kiski Township. Mrs. Lasher was a member of the Avonmore Presbyterian Church and was president of the Saltsburg VFD Ladies Auxiliary. She had been employed by Nutrition Inc., and also the Quik Pik in Saltsburg Surviving are her mother, Saltsburg RD 1; a son, Thomas, Saltsburg- three daughters: Mrs. Suzanne Redman North Richland Hills, Tex.; Lt. Cmdr. Susette U.S. Navy, Virginia Beach, Va.; Karen, at home; three grandchildren; a brother Thomas Kier, and a sister, Mrs. Charles (Blanche) Grabielson, Saltsburg. She was preceded in death by her father; her husband, Mark Lasher in 1979 Friends will be received from 7-9 p m Thursday and from 2-4 and 7-9 p m Friday in the Joseph R. Hunter Funeral Home, Saltsburg. Services will be held at 10:30 a.m. Saturday in the Avonmore Presbyterian Church with Rev. Richard J. Baker, officiating. Interment will follow in Twin Valley Memorial Park Cemetery, Delmont.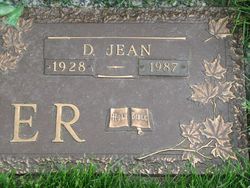 (Source:findagrave.com/Lasherp)