Notes for CHARLES BEVERIDGE NESMITH:

Son of John J and Phoebe A (Mead) Nesmith.
Born: May 30, 1874 in Warren County, Pennsylvania.
Died: August 6, 1903 in Caribou County, Idaho.
Buried: Block 1, Lot 15, Space 5; Pioneer Cemetery, Boise, Ada County, Idaho.
Married: Idah Frampton Kier About 1901 in Unknown.
Obituary
DEATH SHORTENS SUMMER OUTING
CHARLES B. NESMIGH DIES AT CASEY'S RANCH, NEAR PINE GROVE, AFTER A BRIEF ILLNESS - LEFT BOISE JULY 16 ACCOMPANIED BY HIS FAMILY - NEWS GREAT SHOCK TO MANY FRIENDS OF YOUNG MAN IN CAPITAL CITY.
Charles B. Nesmith, the well known mining man, died yesterday at Casey's ranch, near Pine Grove, after being down a few days with what is said to have been mountain fever. He left here on July 16 bound for Casey's for an outing, accompanied by Mrs. Nesmith and their baby, Martha; his sister, Miss Lois Nesmith and Ben Eastman.
A letter was received a few days ago from Mrs. Nesmith stating that her husband and Mr. Eastman had gone into the Sawtooth country. Nothing more was heard from the party until Dr. Springer was summoned to attend Mr. Nesmith. Late last evening came the news of the stricken man's death, which greatly shocked his many Boise friends.
Word from Mountainhome last night was to the efffect that the body would be shipped to Boise. It was expected the remains will be brought there early this morning.
Mr. Nesmith had lived in Boise about a year, having come here from Seattle. He made his home at 1115 Bannock street. He had been operating mines at Pearl and on Shaw's mountain and also had interests around Sumpter, Oregon.
Deceased was 29 years of age and had been married about four years. He was born in Warren, Pa. During the war he was in Cuba in the capacity of a newspaper correspondent, doing brilliant work. He came west after the war and engaged in mining.
Mr. Nesmith was a man of high attainments and enjoyed the esteem of a wide circle of business and social acquaintances.
Obituary
Idaho Daily Statesman
Boise, Idaho
7 Aug 1903
p. 5
BROUGHT TO BOISE - The body of C. B. Nesmith, who died suddenly of spotted fever, wihle on vacation with his family at Casey's ranch, was brought to Boise from Mountainhome lastevening by H. Hedrick. Mrs. Nesmith came home with Dr. Springer on the morning train. Her little daugther Martha, arrived in Boise about 1 o'clock this morning, accompanied by Miss Lois Nesmith and Ben Eastman. Arrangements for the funeral will be decided upon today.
Obituary
Idaho Daily Statesman
Boise, Idaho
8 Aug 1903 p. 5

FUNERAL - The body of the late Charles B. Nesmith will be interred in the Masonic [now Pioneer] cemetery this evening. Private funeral services will be held at the family residence, 1115 Bannock street, at 5:30 p.m., by Dr. C. Ross Baker.
Idaho Daily Statesman
Boise, Idaho
9 Aug 1903
p. 7

Charles B. Nesmith, a well known newspaper man of Warren, and who accompanied the 16th Regiment to Porto Rico as a correspondent, died suddenly from spotted fever at Mountain City, Idaho on Thursday. He learned the printers' trade when a young man but soon left it for reportorial work and had earned an enviable reputation in that line. For several years he was connect4ed with the local papers of Warren, the News, Democrat and Mirror. He left Warren about five years ago and many of his articles concerning the Colorado fields have since appeared in the Buffalo Express. He was 30 years of age. He is survived by his wife and daughter of Boise City, Idaho, his parents Mr. and Mrs. John J. Nesmith and a sister, Miss Lois, of Warren. Deceased was a cousin of Mrs. W.O. Herzog and Harry R. Henderson of this place.
McKean County Miner
Smethport, Pennsylvania
13 Aug 1903 p. 1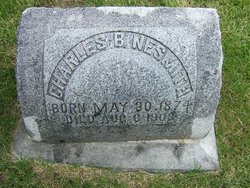 (Source: findagrave.com/Kathleen B.)